If you're looking for the best journey quotes out there, here are the 31 most inspiring quotes on journey and destination!
When we are confused and lost our path, we need someone to guide us and help us in enlightening our path. We seek books, friends, and popular sayings that can give direction to us. We usually feel lost in our life when we are unable to find inspiration.
Wherever you start your journey, you will definitely get some motivation from these journey quotes to find new fulfillment. After all, it needs a single step to commence the voyage of a thousand miles.
If we have a spark inside us and a passion to reach somewhere in life, we will for sure reach our desired destination on time. It is very vital for us to think positively and be calm to make our lives the best they can be. Once we learn and manage to reach our destination, we get to realize that all our efforts were worth it.
Inspirational Journey Quotes
"Success is not a result, it's a journey." — Tim Fargo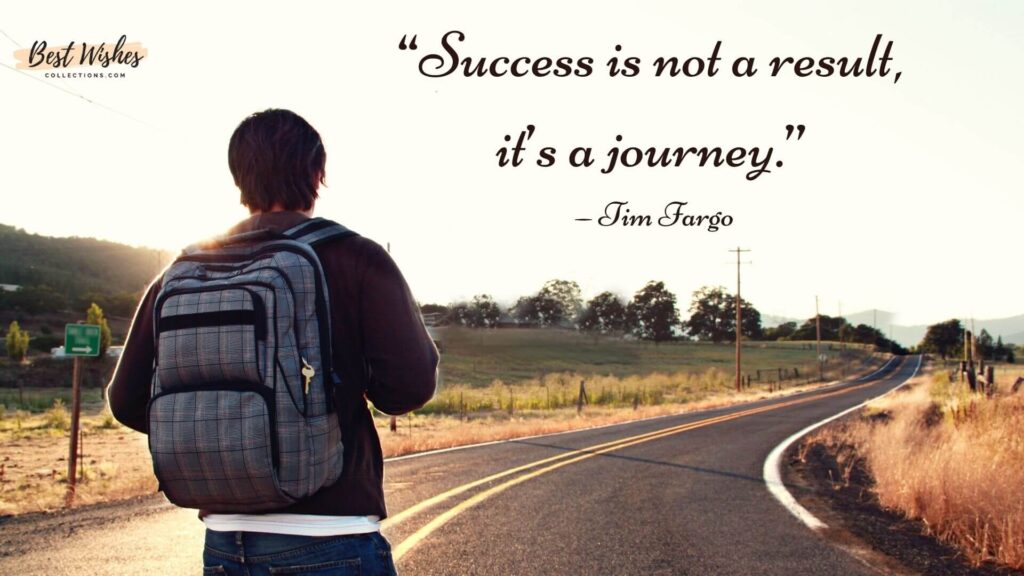 "Life is a journey that must be traveled, no matter how bad the roads and accommodations." – Oliver Goldsmith
"The journey of a thousand miles begins with a single step." — Lau Tzu
"We are all born alone and die alone. The loneliness is definitely part of the journey of life." – Jenova Chen
"Aim for the sky, but move slowly, enjoying every step along the way. It is all those little steps that make the journey complete." – Chanda Kochhar
"The only impossible journey is the one you never begin" — Tony Robbins
"Stop worrying about the potholes in the road and enjoy the journey." — Babs Hoffman
"One of the greatest journeys in life is overcoming insecurity, and learning to truly not give a shit." – J. A. Konrath
"Don't expect anyone to understand your journey, especially if they've never walked your path." – Unknown Author
"Every day is a journey, and the journey itself is home." – Matsuo Basho
"Sooner or later, we must realize there is no station, no one place to arrive at once and for all. The true joy of life is the trip." – Ann Landers
"The journey of life is one we all take, WHY NOT decide to enjoy it in advance!" — Roz Fruchtman
"Remember: the best 'road' is dependent on what you'd like out of the journey." — Tim Fargo
"There are no wrong turnings. Only paths we had not known we were meant to walk." – Guy Gavriel Kay
"Do not follow where the path may lead. Go instead, where there is no path and leave a trail." – Ralph Waldo Emerson
"The journey between what you once were and who you are now becoming is where the dance of life really takes place." – Barbara De Angelis
 "A journey is best measured in friends rather than miles." – Tim Cahill
"Even journey has an end." – Seneca
"Life is a journey, and if you fall in love with the journey, you will be in love forever." — Peter Hagerty
"A journey is a person in itself; no two are alike." — John Steinbeck
"Sometimes the longest journey we make is the sixteen inches from our heads to our hearts." — Elena Avila
"Always remember life is a learning journey. Keep filling your mind with all that is worthy." — Catherine Pulsifer
. "The journey is the destination."— Dan Eldon
"If you only walk on sunny days you'll never reach your destination."— Paulo Coelho
 "You can't change the wind. But you can adjust the sails to reach your destination."— Paulo Coelho
 "Education is a lifelong journey whose destination expands as you travel."— Jim Stovall
Direction determines destination.— Jim Rohn
"Goals reflect your choice of destination."— Earl Nightingale
"Perfection is an impossible destination."— Tim Ferriss
"Happiness is a road traveled, not a destination."— Mike Dirnt
 "Some of the great pictures happen along the journey and not necessarily at your destination."— Steve McCurry
"We must embrace pain and burn it as fuel for our journey." — Kenji Miyazawa
 "What keeps you going isn't some fine destination but just the road you're on, and the fact that you know how to drive."— Barbara Kingsolver
"Writers and travelers are mesmerized alike by knowing of their destinations."— Eudora Welty
Final Words-I Hope you like reading Journey Quotes Also, If you've found it useful, please download and share it with your family and friends on social media.
If you like these quotes, feel free to pin them on Pinterest and share them around! Happy reading! Thanking you for visiting our bestwishescollections, for more updates on thoughts and quotes, please visit regularly for more updates.
Please Do Follow us on Facebook and also you can follow bestwishescollections on Instagram