Happy Dussehra:-Dussehra is a major Hindu festival which is also known as Vijayadashmi. Vijayadashami or Dussehra is celebrated all over India with a lot of Joy and Fun.
When terror of Mahishasura (the buffalo demon) reached to its peak, the ten-armed Goddess Durga fought with him for nine days and killed him on the 10th day. Hence, this day symbolises the restoration of dharma and balance in the universe.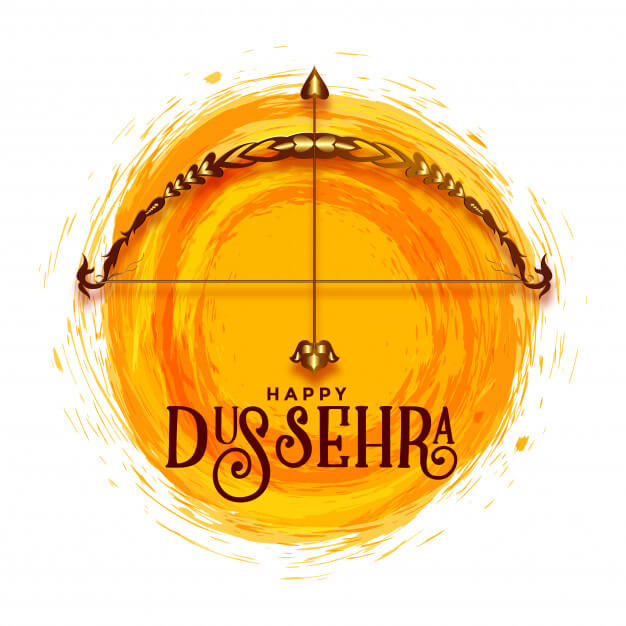 Spread happiness and joy by sharing these inspiring Happy Dussehra messages on this day when good won over evil.
Happy Dussehra Wishes & Messages
May your troubles go up in smoke with the fireworks. Happy Dussehra!!!!
"This is a Time of Celebration
This is the time for Victory of GOOD
This is the Time world sees the power of Good energy.
Let us all continue the same True Spirit in ourselves.
Wish you a very happy Dussehra! "
"May Lord Rama keep the Lighting on your path of success and help you to get victory in every phase of your life. Jai Shri Ram. Happy Dussehra! "
As Shri Ram kills Ravana,
And comes back to the people he loves,
As Maa Durga kills Mahish-asura,
And prepares 2 go back 2 her heavenly abode
May these good-over-evil stories,
Inspire you towards your own victories.
Wish You a Very Happy Dussehra! "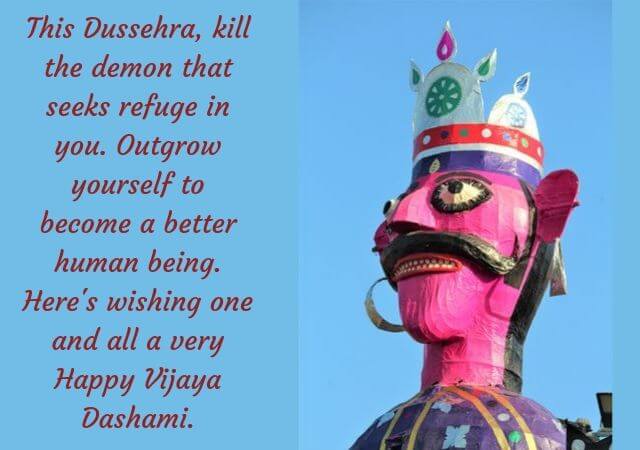 Before the Golden Sun Rises,
Let me decorate each of the rays with success and Happiness
To You and Your Family.
Happy Dussehra! "
"Vijaya Dashami ki Haardik Shubhkaamnaaye!
Kabhi Bhi Duth ka aap par pade na saya,
Ram ji ke naam ka aisa asar hai Chaya,
Har pal dhan dhanya aaye aapke ghar,
Hai Vijaya Dashami par meri yehe manokaamna!
"Happy Dusshera to you and your family. May Lord Rama bless you with Strength and courage to be successful and righteousness! "
"With the Flame of the Candlelight
Your life gets filled with happiness,
As the mountain become higher
You are able to move without any shy,
As the sun shines in the Morning
The Flory fills your years with fragrance,
Darkness is very far
As you get closer to the Light.
We wish the same for you on this Day!
Happy Vijaya Dashami! "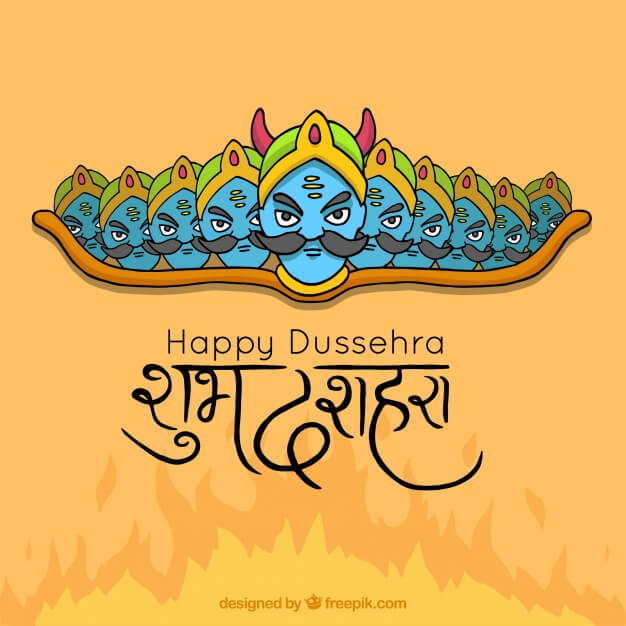 Real Meaning of Dusshera:
D- Devil in
U- Your Life by Giving You
S- Sparkling and
S- Splendid
H- Happiness because of the
E- Energy of being
R- Riches and
A- Abundance!
Happy Dusshera to everyone! "
"May Lord Rama Shower his choicest Blessings on you and you win over every difficulty in your Life!
Jai Shree Ram!"
"May this Festive season brings a lot of joy to your life! Stay Positive and believe in yourself. Happy Dussehra to all of you!"
"For Celebration,
For the Victory of Good over Evil Energy.
Happy Dussehra!"
"On this Prosperous occasion of Dussehra, I Pray that Lord Rama shower the happiness and success on you. Happy Dussehra to you and your family! "
Also Check- Best Navratri wishes & Messages
अधर्म पर धर्म की जीत, अन्याए पर न्याय की विजय, बुराई पर अच्छाई की जय जय कार, यही है दशहरे का त्यौहार .. दशहरे की शुभकामनायें.
ज्योत से ज्योत जगाते चलो..प्रेम की गंगा बहाते चलो..राह में जो आये दीन-दुखी..सबको गले से लगाते चलो..दिन आयेगा सबका सुनहरा..इसलिये मेरी और से Happy Dussehra
दशहरे का पावन पर्व सत्य की जीत का सन्देश दे रहा हैं,
बुराई का दशानन अच्छाई की अग्नि में विध्वंस हो रहा हैं,
प्रभु श्रीराम के आचरण और इस पर्व के सन्देश को अपनाएँ।
इसी के साथ दशहरा पर्व की हजारो-हजार शुभकामनायें।
Final Words-Vijay Dashami or Dussehra is one of the very big festivals in India celebrated with great zeal and enthusiasm. Download these wishes and send them to your closed ones & celebrate Happy Dussehra.