Happy Dussehra:-Dussehra is a major Hindu festival which is also known as Vijayadashmi. Vijayadashami or Dussehra is celebrated all over India with a lot of Joy and Fun.
When the terror of Mahishasura (the buffalo demon) reached its peak, the ten-armed Goddess Durga fought with him for nine days and killed him on the 10th day. Hence, this day symbolizes the restoration of dharma and balance in the universe.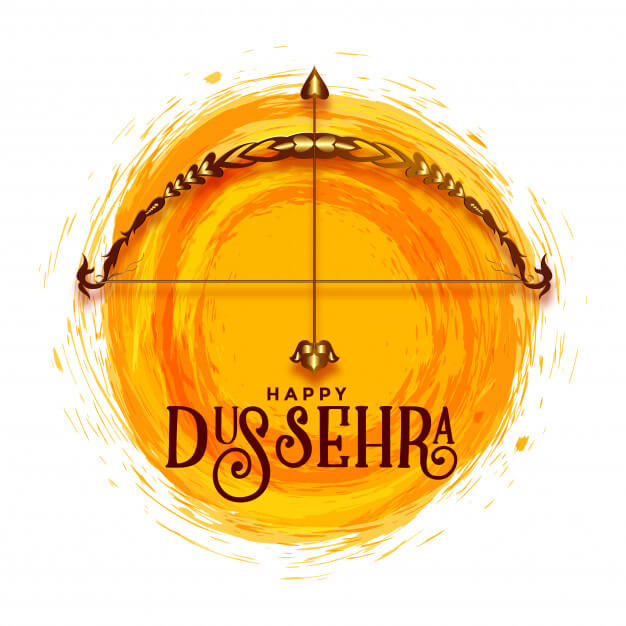 Spread happiness and joy by sharing these inspiring Happy Dussehra messages on this day when good won over evil.
Happy Dussehra Wishes
Dussehra is also known as Vijaya Dashami, the festival is celebrated after the nine-day-long Navratri. Here are some Dussehra quotes and Whatsapp messages to wish your family and friends:
May your troubles go up in smoke with the fireworks. Happy Dussehra!!!!
"This is a Time of Celebration
This is the time for Victory of GOOD
This is the Time world sees the power of Good energy.
Let us all continue the same True Spirit in ourselves.
Wish you a very happy Dussehra! "
"May Lord Rama keep the Lighting on your path of success and help you to get victory in every phase of your life. Jai Shri Ram. Happy Dussehra! "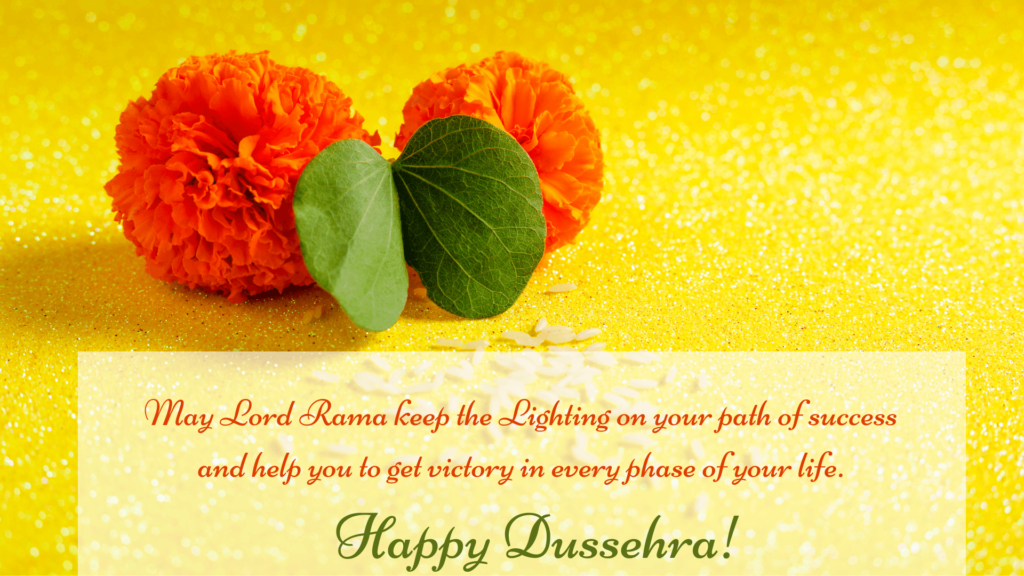 As Shri Ram kills Ravana,
And comes back to the people he loves,
As Maa Durga kills Mahish-asura,
And prepares 2 go back 2 her heavenly abode
May these good-over-evil stories,
Inspire you towards your own victories.
Wish You a Very Happy Dussehra! "
On this auspicious day, here's wishing you happiness, good health and success. May you be blessed by Lord Rama. Here's wishing you a very Happy Vijaya Dashami.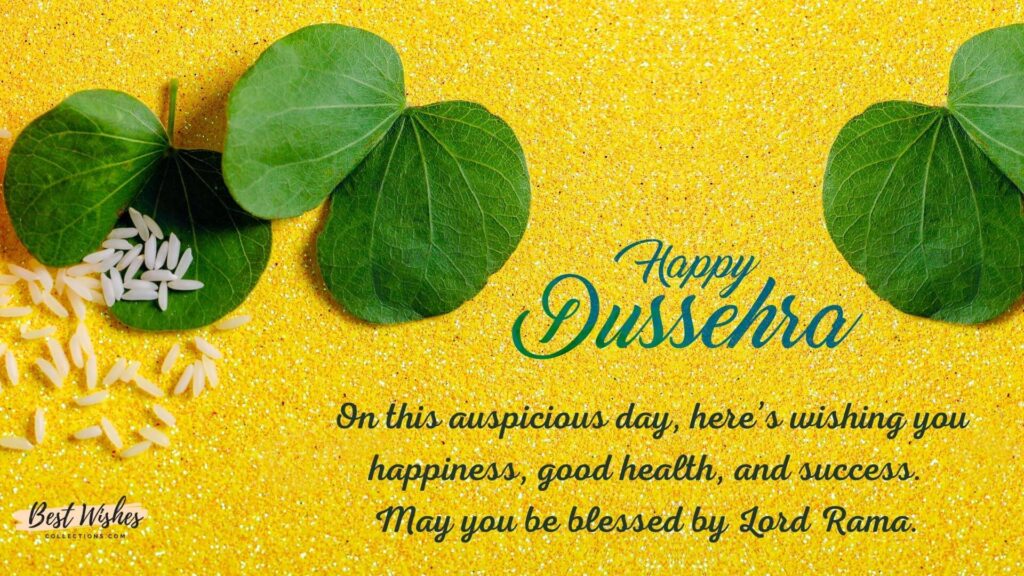 No matter how powerful evil may seem, it will one day crumble under its own weight.No matter how dim it may be, the light of truth will always prevail.
Before the Golden Sun Rises,
Let me decorate each of the rays with success and Happiness
To You and Your Family.
Happy Dussehra! "
"Vijaya Dashami ki Haardik Shubhkaamnaaye!
Kabhi Bhi Duth ka aap par pade na saya,
Ram ji ke naam ka aisa asar hai Chaya,
Har pal dhan dhanya aaye aapke ghar,
Hai Vijaya Dashami par meri yehe manokaamna!
"Happy Dusshera to you and your family. May Lord Rama bless you with Strength and courage to be successful and righteousness! "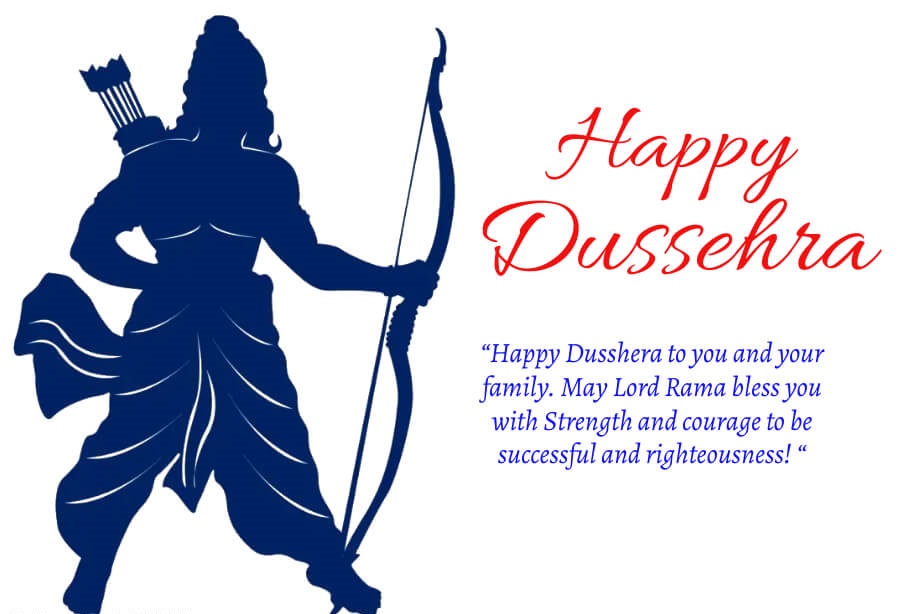 "With the Flame of the Candlelight
Your life gets filled with happiness,
As the mountain become higher
You are able to move without any shy,
As the sun shines in the Morning
The Flory fills your years with fragrance,
Darkness is very far
As you get closer to the Light.
We wish the same for you on this Day!
Happy Vijaya Dashami! "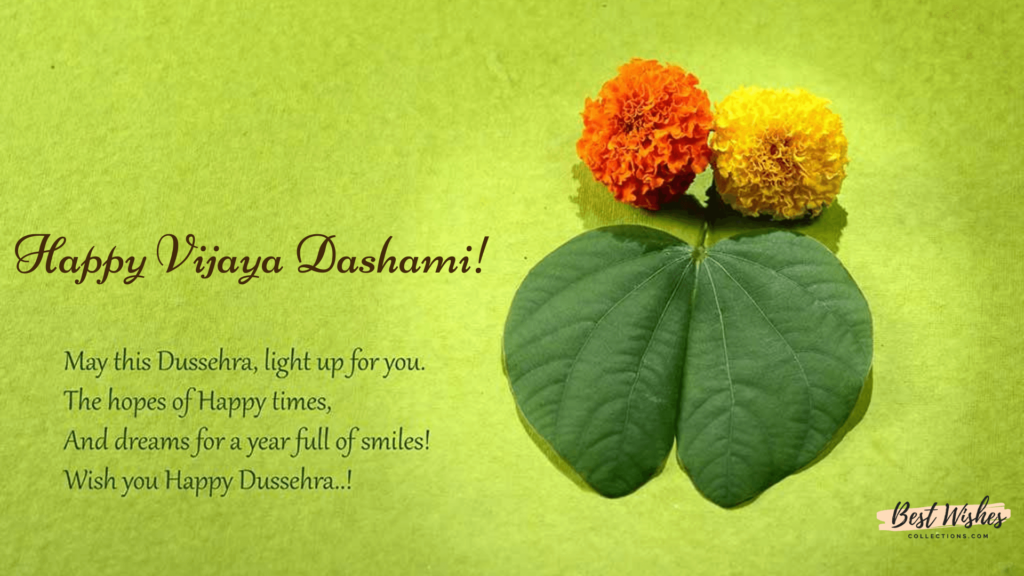 Happy Dussehra Wishes Messages
On this day, the effigies of Ravana, his brother Kumbhakaran and his son Meghnad are burnt to signify the triumph of good over evil. It also honors Goddess Durga's battle against Mahishasura. You might not be able to meet your friend friends, on this Dussehra, because of COVID-19, but can send them a warm message on this day and wish them luck and prosperity. Here are some wishes, messages, and quotes to share with your family and friends.
Real Meaning of Dusshera:
D- Devil in
U- Your Life by Giving You
S- Sparkling and
S- Splendid
H- Happiness because of the
E- Energy of being
R- Riches and
A- Abundance!
Happy Dusshera to everyone! "
This Dussehra, transform into a better person by getting rid of Kama vasana (Lust), Krodha (Anger), Moha (Attraction), Lobha (Greed), Garva (Over Pride), Irshya (Jealousy), Swartha (Selfishness), Anyaaya (Injustice), Amanavata (Cruelty) and Ahankara (Ego). Wishing a very Happy Dussehra to you and your family!
May Lord Rama's grace be with you and your family and may you always keep spreading love and happiness! Wishing a very happy Vijaya Dashami to you.
"May Lord Rama Shower his choicest Blessings on you and you win over every difficulty in your Life!
Jai Shree Ram!"
"May this Festive season brings a lot of joy to your life! Stay Positive and believe in yourself. Happy Dussehra to all of you!"
"For Celebration,
For the Victory of Good over Evil Energy.
Happy Dussehra!"
"On this Prosperous occasion of Dussehra, I Pray that Lord Rama shower the happiness and success on you. Happy Dussehra to you and your family! "
May the truth always win and good triumph over evil. May the Lord always bless you with wisdom and good health.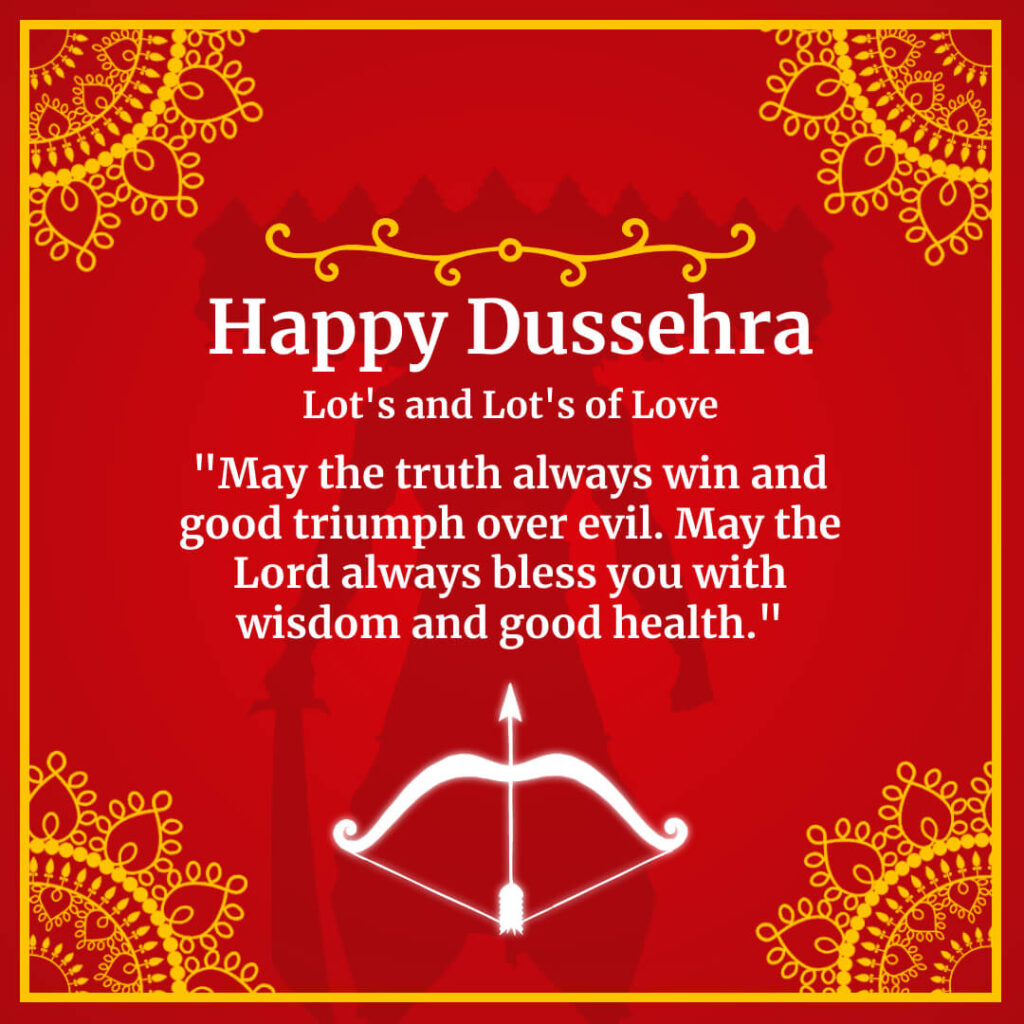 May this Vijayadashami all the worries, problems, and obstacles in your path of success get burned with the effigy of Ravana. May the lord bless you with good health and wealth!
Let only positive and happy thoughts surround you and burn all the negativity with the effigy of Ravana. Have a great Vijayadashami!
May your life take a new turn this Dussehra. And all your worries and sorrows get burned with the effigy of the Ravana!
May Goddess Durga grant all your wishes and bless you with good health, success, and happiness. Good wishes for a joyous Vijayadashami!
Just like the colors and lights of the festival, may your life be filled with all the joy and prosperity in the world. Happy Dussehra!
Also, Check- Best Navratri wishes & Messages
Happy Dussehra Wishes in Hindi
अधर्म पर धर्म की जीत, अन्याए पर न्याय की विजय, बुराई पर अच्छाई की जय जय कार, यही है दशहरे का त्यौहार .. दशहरे की शुभकामनायें.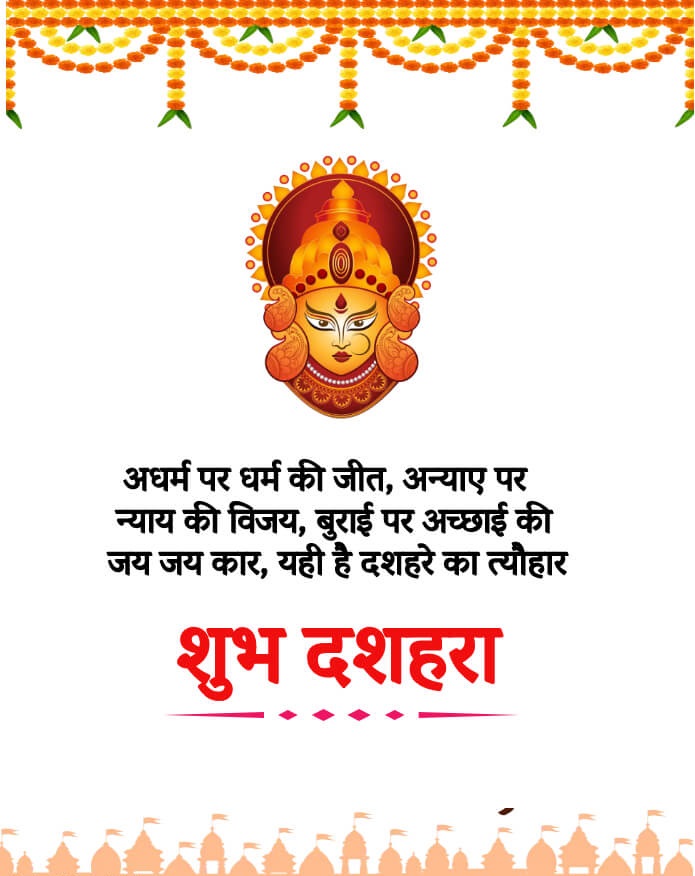 ज्योत से ज्योत जगाते चलो..प्रेम की गंगा बहाते चलो..राह में जो आये दीन-दुखी..सबको गले से लगाते चलो..दिन आयेगा सबका सुनहरा..इसलिये मेरी और से Happy Dussehra
दशहरे का पावन पर्व सत्य की जीत का सन्देश दे रहा हैं,
बुराई का दशानन अच्छाई की अग्नि में विध्वंस हो रहा हैं,
प्रभु श्रीराम के आचरण और इस पर्व के सन्देश को अपनाएँ।
इसी के साथ दशहरा पर्व की हजारो-हजार शुभकामनायें।
अधर्म पर धर्म की विजय का पर्व है दशहरा
असत्य पर सत्य की विजय का पर्व है दशहरा
बुराई पर अच्छाई की विजय का पर्व है दशहरा
पाप पर पुण्य की विजय का पर्व है दशहरा
अज्ञान पर ज्ञान की विजय का पर्व है दशहरा
Happy Dussehra …
अधर्म पर धर्म की जीत

अन्याय पर न्याय की विजय

बुरे पर अच्छे की जय जयकार

यही है दशहरा का त्योहार।
बुराई का होता है विनाश,
रावण की तरह आपके दुखों का हो नाश,
यही है दशहरे का त्यौहार
विजयदशमी की शुभकामनायें .
असत्य पर सत्य की जीत के त्यौहार
विजयदशमी की आपको और आपके परिवार को
हार्दिक हार्दिक शुभकामनाएं… ईश्वर आपको नई ऊंचाइयां दे.
बुराई का होता हैं विनाश,
दशहरा लाता है उम्मीदों की आस,
हर व्यक्ति के अंदर की बुराई का हो नाश,
आपके घर में ईश्वर का सदा वास.
दशहरे की हार्दिक बधाई !!!
हर ख़ुशी आपकी कदम चूमे, कभी ना हो दुखों का सामना,
इस दशहरे पर हमारी ओर से आपको ये शुभकामना.
दशहरे की शुभ कामनाएँ !!!
ह्रदय से रावण जैसी बुराई का नाश हो,
और प्रभु श्रीराम का वहाँ पर वास हो.
जय श्रीराम – दशहरे की हार्दिक शुभकामनाएँ!!!
Happy Dussehra Quotes
Dussehra teaches us that when we act with Dharma, we will always be victorious- Amish Tripathi
Shooting arrows at the multiple heads never kills the problem, one head replaces another, killing it will take just one focused shot at the heart of the problem. – Shahenshah Hafeez Khan
I hope that real love and truth are stronger in the end than any evil or misfortune in the world. – Charles Dickens
There is no denying that there are evils in this world but the light will always conquer the darkness. – Idowu Koyenikan
When I despair, I remember that all through history the way of truth and love has always won. – Mahatma Gandhi
The important thing is to teach a child that good can always triumph over evil.- Walt Disney
Good must triumph over evil. It usually does in life and in any case, it's bad for young people to believe it doesn't. – Barbara Cartland
Light can devour the darkness but darkness cannot consume the light.- Ken Poirot
"I learned that courage was not the absence of fear, but the triumph over it. The brave man is not he who does not feel afraid, but he who conquers that fear.- Nelson Mandela
Dussehra Messages
Enjoy the victory of Truth over Evil Happy Dussehra.
Let us start a great life by conquering our external evils.
Jai Siyaram, Wish U Success & Happiness In Everything U Do! Happy Dussehra!
Happy Dussehra to all of you. Hope this festive season brings lots of joy to all of you.
Ravan Jalaao Burai ko aag lagaao Achchai ko apnaao Khub pio, khub khao.
Dussehra Is a Festival Of Victory On Bad Elements In Our Lives.
Ye Pal Ho Sunehera, Duniya Me Naam Ho Roshan Tumahara, Dusron Ko Dikhako Tum Kinara Yehi Aashirwaad Hai Hamara.
Dusshera signifies the victory of good over evil. May all the evils in and around you vanish by the virtue of the goodness in and around you.
May Lord Rama bless you and your family with his choicest blessings. Happy Dussehra to all of you.
May your troubles burst away like fireworks and your happiness be multiplied by ten times.
O Lord, wandering with thee, even hell itself would be to be a heaven of bliss.
Happy Dussehra Wishes HD Images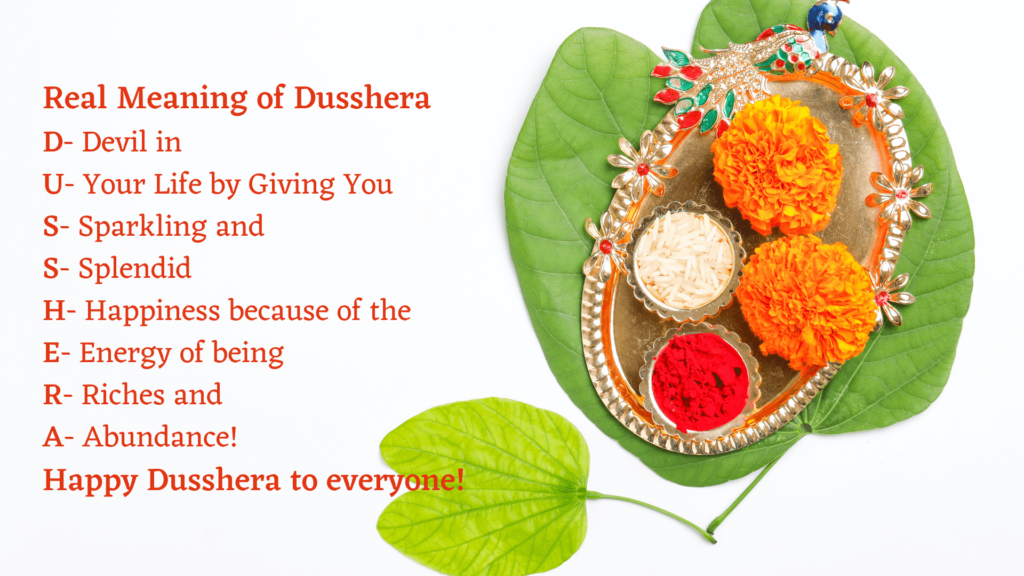 Final Words-Vijay Dashami or Dussehra is one of the very big festivals in India celebrated with great zeal and enthusiasm. Download these wishes and send them to your close ones & celebrate Happy Dussehra.
I hope you like reading Happy Dussehra Quotes & Wishes Also, If you've found it useful, please download and share it with your family and friends on social media.
If you like these quotes, feel free to pin them on Pinterest and share them around! Happy reading! Thank you for visiting our bestwishescollections, for more updates on thoughts and quotes, please visit regularly for more updates.
Please Do Follow us on Facebook and also you can follow bestwishescollections on Instagram.
happy Dussehra wishes
happy Dussehra wishes images
happy Dussehra wishes messages
happy Dussehra wishes HD images
happy Dussehra wishes video
happy Dussehra wishes in Bengali
happy Dussehra wishes SMS
happy Dussehra wishes 2022
happy Dussehra wishes 2022
happy Dussehra wishes in Hindi