Happy Lohri- Lohri is a festival of happiness & prosperity, when we get together with our friends & family, celebrate this festival with gazak, popcorn, revdi, and most important bonfire. Here are some Lohri wishes, quotes, and Images to spread happiness amidst your near and dear ones.
Lohri is among the most celebrated Indian festivals. It is celebrated on 13th Jan of every year. The next morning is Makar Sankranti or Pongal Festival. Lohri is majorly a Punjabi festival, but it is celebrated all along in Northern India by lighting a bonfire, a doing puja.
On the Lohri Night, people wear new clothes, they all along with their family and friends gather around the bonfire, with Gazak, groundnuts, popcorn, and jaggery. They sing, dance, and distribute sweets among family & friends. Traditionally, people consume til (sesame seeds) and gur (jaggery) on this day as these food items.
Happy Lohri Wishes
On this auspicious day of Lohri, I wish you to have all peace and prosperity, Let this festival brings endless happiness to you and your family, Wish you a Happy Lohri!
May this festival of zeal and verve
fill your life with lots of energy and enthusiasm
and may it help you bring happiness and prosperity
to you and your loved ones.
Happy Lohri to one and all!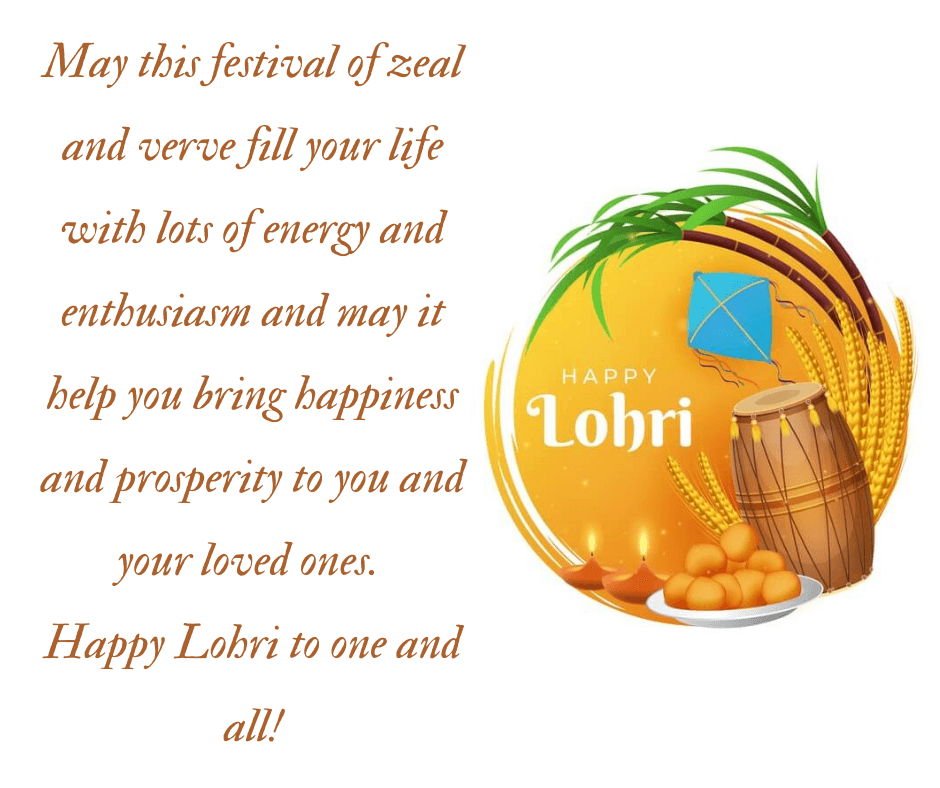 May the beauty Of Lohri Festival season fill your home with happiness.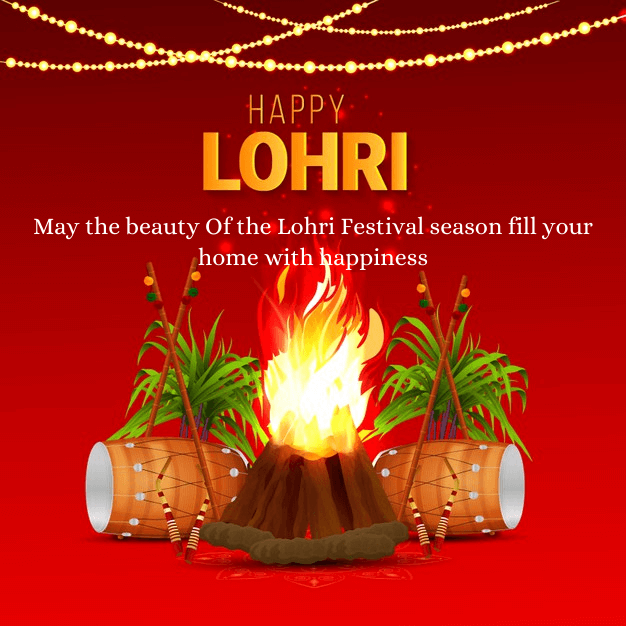 "May the Lohri fire burn away all the sadness out of your life and bring you joy, Happiness, and Love. Wishing a Very Happy Lohri to You and Your Family"
"This Lohri spread the message of peace and happiness with all."
"May your year be just as colorful and joyful as the festival of Lohri. Wish you a very happy Lohri!"
"May this festival of zeal and verve fill your life with lots of energy and enthusiasm that will bring ultimate prosperity to you. Happy Lohri!"
"May the soaring kites of Lohri bring success and prosperity. Happy Lohri"
"May this Lohri bring opportunities your way, to explore every joy of life, turning all your dreams into reality and all your efforts into great achievements. Happy Lohri"
"Wish that the warmth of the bonfire, the sweetness of gud and Rewari on Lohri remain with you forever. Happy Lohri!"
"The sound of dhol is in the air, so dance to beats and share and care, May the rhythms keep you always happy this I wish for you on Lohri! Happy Lohri"
"Celebrate life with good music and food as I hope you celebrate the joyous day of Lohri with your friends and family. Wishing you lots of sweetness of gazak and rewdi."
May this Lohri bring lots of laughter, happiness, prosperity, and success to your home. Happy Lohri!
God bless you with a lot of happiness & may God pour their love on your family on this Lohri. — Happy Lohri
May this festival bring you and your family happiness and prosperity. Happy Lohri!
"On this festive season of Lohri, may God bless you with good health and lifelong companionship."
Between yesterday's mistakes and tomorrow's hope, there is a fantastic opportunity, called "TODAY"!! Live it in and enjoy it!!
Happy Lohri to you and your family!
Sending lots of love and warm hugs on Lohri
May you are blessed with unmatched happiness and joy."
Happy Lohri to all!!
Happy Lohri Wishes in Hindi, Punjabi
The best way to wish Lohri to your family & friends is by sending Lohri wishes and Lohri quotes. We have the best collections of Lohri Quotes in the Local Language i.e in Hindi & Punjabi. So below is our Collections-
फिर आ गई भंगड़े की बारी; लोहड़ी मनाने की करो तैयारी; आग के पास सब आओ; सुंदर-मुंदरिये जोर से गाओ; — लोहड़ी की शुभकामनाएं
मूंगफली दी खुशबु ते गुर दी मिठास,
मक्की दी रोटी ते सरसों दा साग,
दिल दी ख़ुशी ते अपनों का प्यार,
मुबारक होवे तानु लोहड़ी का त्योहार….
–जैसे जैसे लोहड़ी की आग तेज़ हो,
वैसे वैसे हमारे दुखों का अंत हो,
लोहड़ी का प्रकाश आपकी ज़िन्दगी को प्रकाशमय कर दे..
इससे पहले कि लोहरी की शाम हो जाए,
मेरा SMS औरों की तरह आम हो जाए,
और सारे मोबाइल नेटवर्क जाम हो जाए,
आपको लोहरी की शुभकामनाएं हैप्पी लोहरी
सर्दी की थरथराहट में, मूंगफली,
रेवड़ी और गुड़ की मिठास के साथ,
लोहरी मुबारक हो आपको दोस्ती और रिश्ते की गर्माहट के साथ..
Lohri Aayi – Lohri Aayi,
Dekho Apne Sang Ye Khushiyan Layi,
Hamne Is Din Gacchak or Rodi Khayi,
Dekho Aaj Lohri Aayi,
Lohri Ka To Andaj Hee Nirala Hai,
Aap Sabko Wish Kar Daala. — Happy Lohri
गन्ने दे रस तों चिन्नी दी बोरी
फेर बनी उस्तों मिट्ठी मिट्ठी रेवरी
रल मिल सारे खइया तिल दे नाल
ते मनिये अस्सी खुशियां भरी लोहरी
ट्विंकल ट्विंकल यारां दी कार,
खड़के ग्लासी in the bar
पंजाबी भंगड़ा ते मक्खन मलाई
तुहानू लोहरी दी लख लख वधाई
हैप्पी लोहरी
Happy Lohri vekheya sadi yaari,
Sawere sawere hi wish maari,
Ehnu kehnde ne hushiari,
Hun wish karan di tuhaadi hai vaari.
आपको और आपके परिवार को लोहड़ी की लाख-लाख बधाइयाँ,
रब करे अप के जीवन में इन्हों खुशियों की बारिश होवे,
आपको लोहरी उत्सव की बधाई हो ||
age Dekho – Peeche Dekho,

Upper Dekho – Niche Dekho,

Har Taraf Aa Gayi Lohri Pyari,

Masti Karne Ki Tum Jaaldi Se Kar Lo Tayari,

Sabse Pyaari Hai Lohri Humari.
Popcorn ki khushbu, mungfali ki bahar, Lohri ka teohar aane ko tayar, Thodi si masti, thoda sa pyar, Happy Lohri, oh mere yaar!
Happy Lohri Greeting Cards
Lohri draws out Punjab's rich customs of farming flourishing, shading and the individuals' soul of sharing. Lohri is a fine illustration of a local area celebration. it is here and there not basically conceivable to wish every one of your companions actually. Thus, to customize your desires and messages to loved ones who live a remote place, here are some inspiring statements you can ship off them this Lohri. Peruse on to know more:
A family that celebrates Lohri together stays together. Wishing you good times and cherishable moments with your loved ones on Lohri. Stay happy.
In softly glowing candlelight, may all your dreams come true. Every star of every night brings luck & joy to you. Wish you and your family a very Happy Lohri.
Happy Lohri Wallpaper & Images
We share with you some of the best images & Wallpaper of Lohri God bless the prosperity of farmers and soil and can fulfill your dreams. Send this Lohri Images, Wallpaper, Photo wallpaper on Social Media platforms like WhatsApp and Facebook status.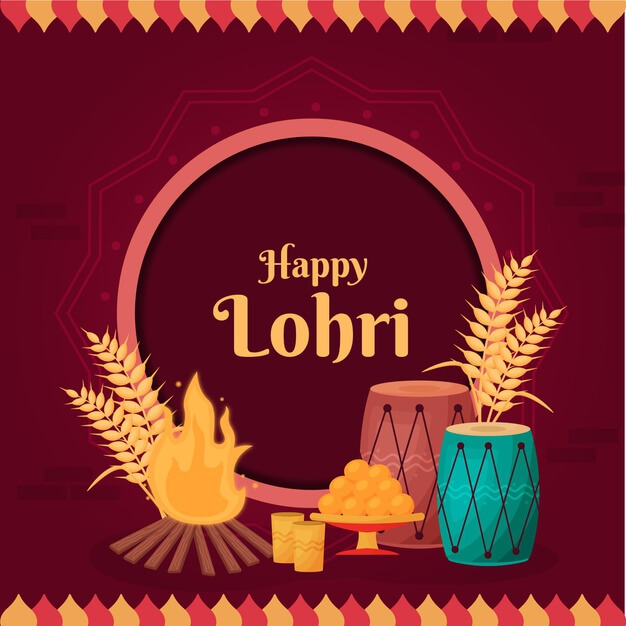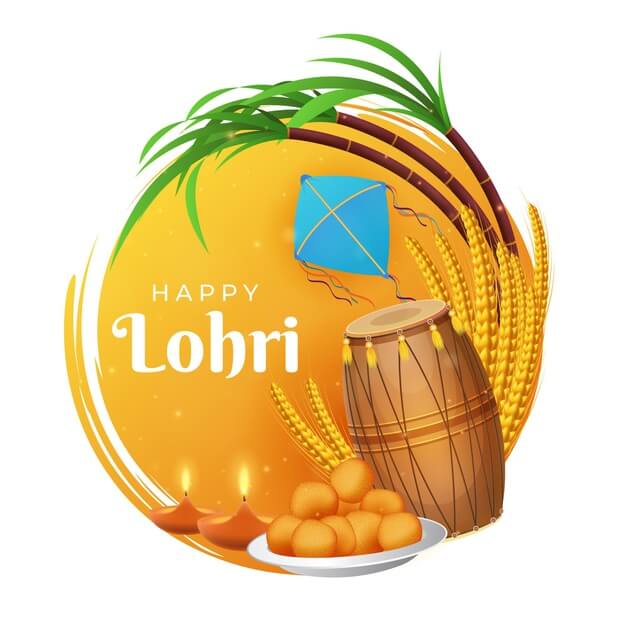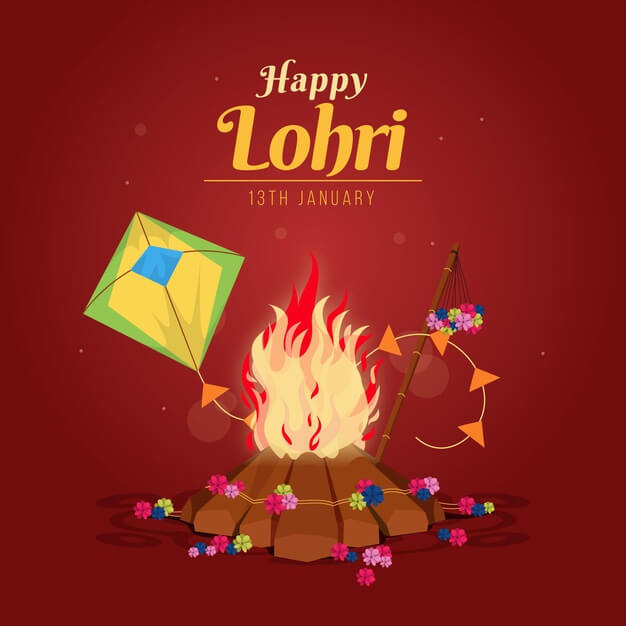 Final Words-Lohri festival marks the harvest of rabi crops and the end of the winter season The first Lohri is considered very auspicious for a new bride and a newborn baby, as it symbolizes fertility. Celebrate Lohri with family & friends by sharing these wishes.