Indian Independence Day celebrated on August 15th, marks the nation's liberation from British colonial rule in 1947. This significant day commemorates the tireless efforts, sacrifices, and unwavering spirit of the Indian freedom fighters who struggled for a sovereign India. It is a momentous occasion where the entire nation comes together to honor the principles of freedom, democracy, and unity, reflecting on the progress made since independence while acknowledging the journey ahead toward a brighter and more inclusive future.
Here are the best Independence Day images, quotes, messages, and wishes that you can forward to your friends and family on Facebook, WhatsApp, and Instagram.
Independence Day Quotes
"At the stroke of the midnight hour, when the world sleeps, India will awake to life and freedom." – Jawaharlal Nehru
"Forget not that the grossest crime is to compromise with injustice and wrong. Remember the eternal law: you must give if you want to get." – Netaji Subhash Chandra Bose
"Freedom is not worth having if it does not connote freedom to err." – Mahatma Gandhi
"If your blood does not rage, then it is water that flows in your veins. For what is the flush of youth, if it is not of service to the motherland?" – Chandra Shekhar Azad
"One individual may die for an idea, but that idea will, after his death, incarnate itself in a thousand lives." – Netaji Subhash Chandra Bose
"A country's greatness lies in its undying ideal of love and sacrifice that inspire the mothers of the race." – Sarojini Naidu
"So long as you do not achieve social liberty, whatever freedom is provided by the law is of no avail to you." – BR Ambedkar
"Give me your blood and I will give you freedom!" – Netaji Subhash Chandra Bose
"It is easy to kill individuals, but you cannot kill the ideas. Great empires crumbled, while the ideas survived." – Bhagat Singh
"Sarfaroshi ki tamanna ab hamare dil me hai, dekhna hai zor kitna baazu-e-qaatil me hai." – Ramprasad Bismil
"This is the fight for freedom, freedom from yesterday, for tomorrow!"—Mangal Pandey
"My only desire is that India should be a good producer and no one should be hungry, shedding tears for food in the country."—Sardar Vallabh Bhai Patel
Don't Forget to Read- Happy Republic Day
Independence Day Wishes
To free the nation from the shackles of the British Raj, several freedom fighters went through unimaginable pain and sacrificed their lives for the freedom of India. Hence, Independence Day is celebrated with utmost fervor, zest, and a spirit of patriotism to mark the innumerable sacrifices of the freedom fighters of India and honor the fact that we are living in a free India.
Let's keep the memories of all the people who sacrificed their lives for our country alive. Wishing you a Happy Independence Day 2022!
Let us honor the struggles of many Bravehearts who fought for the country's freedom. Happy Independence Day 2022!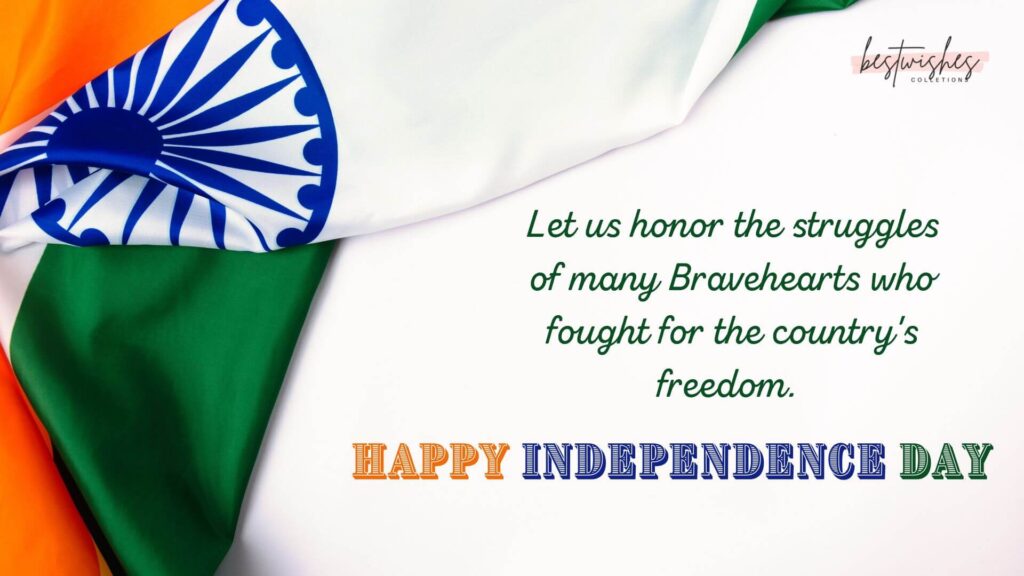 Let's salute the martyrs for the sacrifices they made and thank them for giving us our freedom. Happy Independence Day 2022.
Today we cherish the ones who made our independence possible. Freedom is hard to get, but we were blessed to have it. Let's appreciate everything we have and celebrate the great miracle of freedom. Happy Independence Day.
We got our freedom after a lot of sacrifices; we should never take it for granted.
A big salute to all the soldiers who sacrificed their lives for our independence! Jai Hind!
May the glory of Independence Day be with us forever. Here's wishing you a very happy Independence Day
Freedom in mind, Faith in our heart, Memories in our souls. Let's salute the Nation on Independence Day!
On this special day here's wishing our dreams of a new tomorrow come true! May your Independence Day day be filled with patriotic spirit!
Remember– united we stand, divided we fall. Independence Day is a reminder for us that we all are Indians first. Happy Independence Day!
May the flag of our country fly higher and higher each year! Happy Independence Day!
This year, when we celebrate this historic event, here are a few Independence Day wishes, messages and quotes to share with your near and dear ones:
Don't Forget to Read- Kargil Vijay Diwas
Independence Day Whatsapp Status
On this day, in 1947, the first Prime Minister of independent India, Jawaharlal Nehru, hoisted the national flag at the Lahori Gate of Red Fort in New Delhi. Spread the patriotic spirit by wishing your loved ones on this special occasion.
Let's salute the martyrs
For the sacrifices they made,
And thank them
For giving us our today.
"Long years ago, we made a tryst with destiny, and now the time comes when we shall redeem our pledge, …At the stroke of the midnight hour, when the world sleeps, India will awake to life and freedom." – Jawaharlal Nehru
"At the dawn of history India started on her unending quest, and trackless centuries are filled with her striving and the grandeur of her success and her failures. Through good and ill fortune alike she has never lost sight of that quest or forgotten the ideals which gave her strength." – Jawaharlal Nehru
Let us be mindful of everything we can do for our nation to make it a place of wealth, peace, and happiness. Here's wishing you and your family a safe and happy Independence Day!
Today is the day we pay our respects to our beautiful nation. We have a rich culture and heritage, so let's celebrate it today. May this Independence Day be special for you and your loved ones.
Remembering our past is extremely important. But we also have to think about building our future. Let's do everything to keep our freedom and carry it through the years. Happy Independence Day!
May your spirits rise with the flag today! Happy Independence Day!
Freedom is the way God intended us; it is something we are born with. Something that no one can take away from you. Let's celebrate Freedom! Happy Independence Day.
Independence Day Whatsapp Status & Wishes
दे सलामी इस तिरंगे को जिससे तेरी शान है,
सर हमेशा ऊँचा रखना इसका जब तक दिल में जान है।
स्वतंत्रता दिवस की हार्दिक शुभकामनाएं
लंदन देखा पेरिस देखा और देखा जापान,
सरे जग में कहीं नहीं है दूसरा हिन्दुस्तान।
Happy Independence Day
गूंज रहा है भारत में भारत का नगाड़ा,
चमक रहा आसमान में देश का सितारा,
आज़ादी के दिन आओ मिलकर करे दुआ,
की बुलंदी पर लहराता रहे तिरंगा हमारा।
Happy Independence Day
क्यों मरते हो यारो सनम के लिए,
ना देगी दुपट्टा कफ़न के लिए,
मरना है तो मरो 'वतन' के लिए,
'तिरंगा' तो मिले कफन के लिए।
Happy Independence Day
आजाद की कभी शाम नहीं होने देंगे,
शहीदों की कुर्बानी बदनाम नहीं होने देंगे,
बची हो जो एक बूंद भी गरम लहू की,
तब तक भारत माता का आँचल नीलाम नहीं होने देंगे।
Happy Independence Day
चलो फिर से आज वो नजारा याद कर लें,
शहीदों के दिल में थी वो ज्वाला याद कर लें,
जिसमें बहकर आजादी पहुंची थी किनारे,
देश भक्तों के खून की वो धारा याद कर लें।
स्वतंत्रता दिवस की हार्दिक शुभकामनाएं
कुछ नशा तिरंगे की आन का हैं,
कुछ नशा मातृभूमि की शान का हैं,
हम लहरायेंगे हर जगह ये तिरंगा,
नशा ये हिंदुस्तान की शान का हैं।
Happy Independence Day
वो ज़िंदगी ही क्या जिसमे देश भक्ति ना हो
और वो मौत ही क्या जो तिरंगे में ना लिपटी हो।
स्वतंत्रता दिवस की हार्दिक शुभकामनाएं
देशभक्तों से ही देश की शान है,
देशभक्तों से ही देश का मान है,
हम उस देश के फूल हैं यारों,
जिस देश का नाम हिंदुस्तान है।
स्वतंत्रता दिवस की हार्दिक शुभकामनाएं
आओ झुक कर सलाम करे उनको,
जिनके हिस्से में ये मुकाम आता है,
खुश नसीब होता है वो खून जो देश के काम आता है।
Happy Independence Day
ना जियो धर्म के नाम पर,
ना मरो धर्म के नाम पर,
इंसानियत ही है धर्म वतन का,
बस जियो वतन के नाम पर।
Happy Independence Day
इस मुल्क की हिफाज़त के लिए मेरा दिल,
मेरी जान भी क़ुर्बान है,
मत फैलाओ नफ़रत देश में
क्योंकि मेरे पास सिर्फ मेरा हिंदुस्तान है।
स्वतंत्रता दिवस की हार्दिक शुभकामनाएं
तिरंगा हमारा हैं शान- ए-जिंदगी,
वतन परस्ती हैं वफ़ा-ए-ज़मी,
देश के लिए मर मिटना कुबूल हैं हमें,
अखंड भारत के स्वपन का जूनून हैं हमें।
स्वतंत्रता दिवस की हार्दिक शुभकामनाएं
अब तक जिसका खून न खौला,
वो खून नहीं वो पानी है,
जो देश के काम ना आए,
वो बेकार जवानी है,
बोलो भारत माता की जय।
स्वतंत्रता दिवस की हार्दिक शुभकामनाएं
अपनी आजादी को हम हरगिज मिटा सकते नहीं,
सर कटा सकते है लेकिन,
सर झुका सकते नहीं।
Happy Independence Day
आन तिरंगा, शान तिरंगा
सबको जोड़े एक तिरंगा
उत्तर-दक्षिण, पूरब-पश्चिम
एक डोर में जोड़े तिरंगा।
Happy Independence Day
आन तिरंगा, शान तिरंगा
सबको जोड़े एक तिरंगा
उत्तर-दक्षिण, पूरब-पश्चिम
एक डोर में जोड़े तिरंगा।
Happy Independence Day
मुकम्मल है इबादत और मैं वतन ईमान रखता हूँ,
वतन के शान की खातिर हथेली पर जान रखता हूँ,
क्यों पढ़ते हो मेरी आंखों में नक्शा किसी और का,
देश भक्त हूँ,
दिल में हिंदुस्तान रखता हूँ।
Happy Independence Day
भारत का वीर जवान हूँ मैं,
ना हिन्दू, ना मुसलमान हूँ मैं,
जख्मों से भरा सीना हैं मगर,
दुश्मन के लिए चट्टान हूँ मैं,
भारत का वीर जवान हूँ मैं।
स्वतंत्रता दिवस की हार्दिक शुभकामनाएं
दिल दिया है जान भी देंगे,
ऐ वतन तेरे लिए।
Happy Independence Day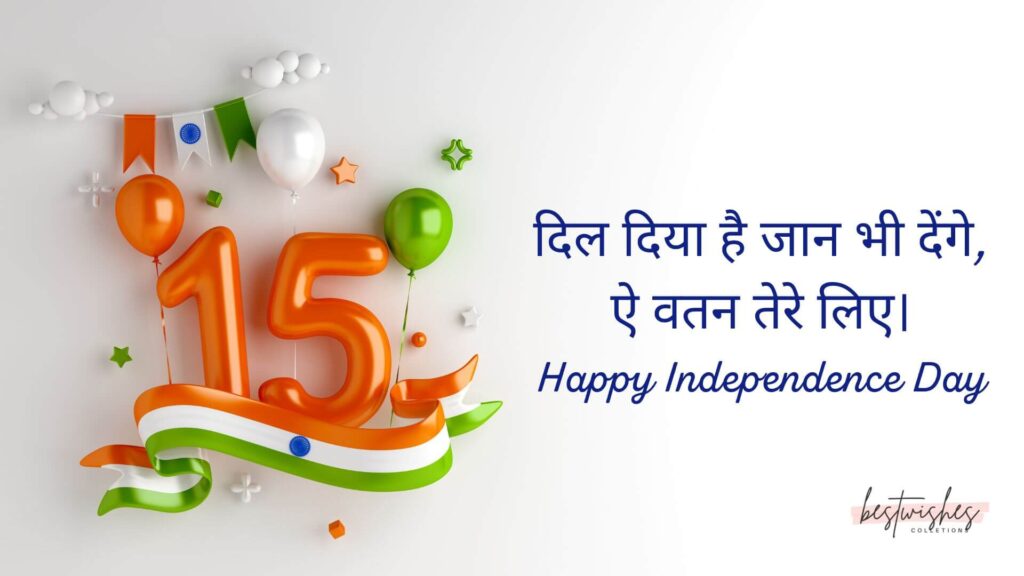 न ज़ुबान से, न निगाहों से, न दिमाग से, न रंगो से,
न ग्रीटिंग से, न गिफ़्ट से,
आपको "जशने आज़ादी मुबारक " direct दिल से।
 Happy Independence Day
Independence Day Images