Happy Cousins day is celebrated on July 24th every year. Cousins are very precious in life, and having two or three cousins is really lucky. Some siblings are even closer to their cousins than their siblings. I think every one of us has wonderful moments and memorable holidays with cousins to cherish for a lifetime.
To make this emotional bond more strong, we can chit-chat with our cousins on phone, can send messages and wishes on WhatsApp to our far living cousins. Enjoy these Happy cousins day quotes and share them with your built-in best friends for life! Read our roundup of family quotes for even more inspiration.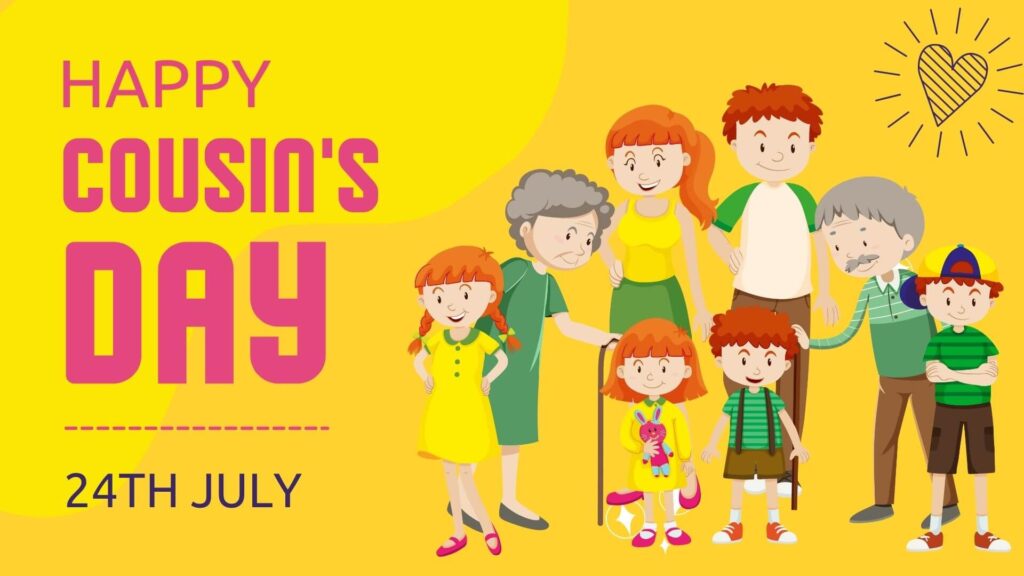 Happy Cousins Day Wishes
Happy cousin's day to all my cousins for being my best friends and also my best guide.
No doubt, our bond is the best glue we share—happy cousin's day to all my cousins for being my fantastic mate in this journey of life.
To my first best friend, who no doubt is my best friend forever, happy cousin day for being such an essential part of my life.
It's you who could always make me smile when I was not willing to smile at all. Happy cousin's day for all the laughter and fun we have shared.
No distance could create any difficulty in our bond. I wish we could always stay together with each other and enjoy this journey.
As it is said that the bond one shares with his/her friends remain forever, so I would like to add that the bond we share with our cousins is for life.
On this beautiful, I would like to get back to all those memories that we have shared and live those memories again and again.
I want to thank you, my dear cousin, for always helping me with my studies. I wish you could ever have solved my assignments and my marks would have been much better.
To all the mischief that we have shared, on this beautiful day, let's do it again and make this day another memory for both of us to remember.
No doubt, I have the best cousins in the world, and my love for you is beyond my words—happy cousin's day to all my cousins for the cute little bond that we have shared.
Your blessings are the one that matters to me the most. I hope you are blessing me always with your love.
No, thank you would be enough for the bond I could experience because of you but till then, thank you for being what you are.
It is your blessings that I'm standing on a big platform like this. May you get all the world's happiness and spend the day with a big smile, my dear cousin.
Happy Cousins Day Messages
We have the amazing Happy National Cousin Day messages, Cousin Day Wishes, and quotes to help you wish your adorable cousins in the most beautiful way. There are many different types of happy cousin day messages and quotes available here. We also have happy cousin's day images that you can send as cards.
The bond which connects heart to heart. Happy Cousin's day to all my cousins.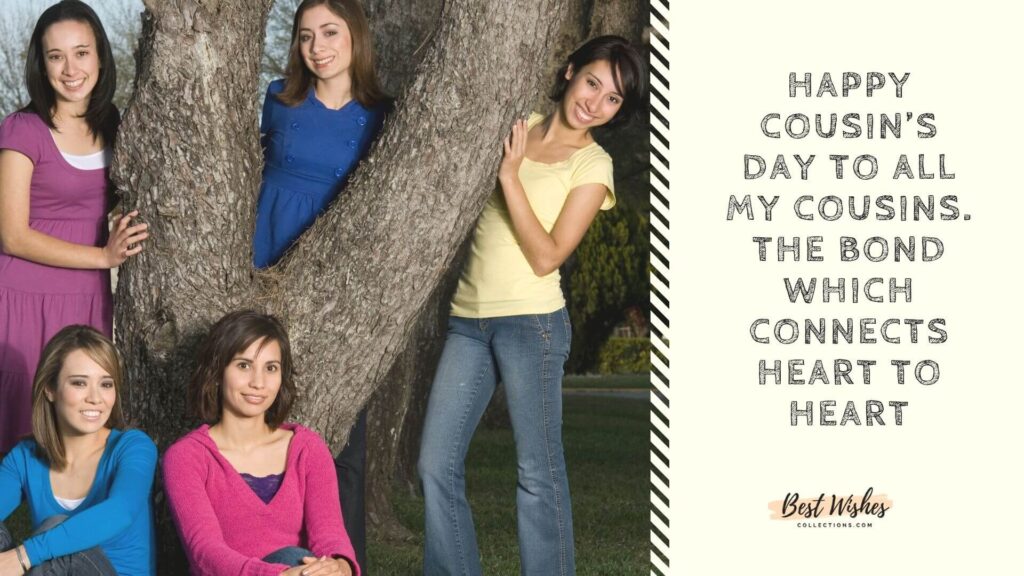 The relationship of a cousin is not separated by distance and time. Wishing a fun-filled day!
A cousin is my childhood mate and turned into a friend when grown up! Happy Cousins day
Cousins may not call you every day, but they are there in every situation you face!
My childhood would have been very boring without you. You are full of life! Wishing all the success in everything you do.
If friends are forever, cousins are for life! Have a great Cousins day.
A cousin can turn my sorrow into laughter. I wish all the happiness to all my cousins on this special day.
When you love someone, they deserve your wishes and blessings. Wishing and blessing all my cousins!
Sweet fruits are nice to eat and sweet words are nice to say, but a sweet cousin like you is hard to find!
Even though we are cousins to the world, we are friends in heart!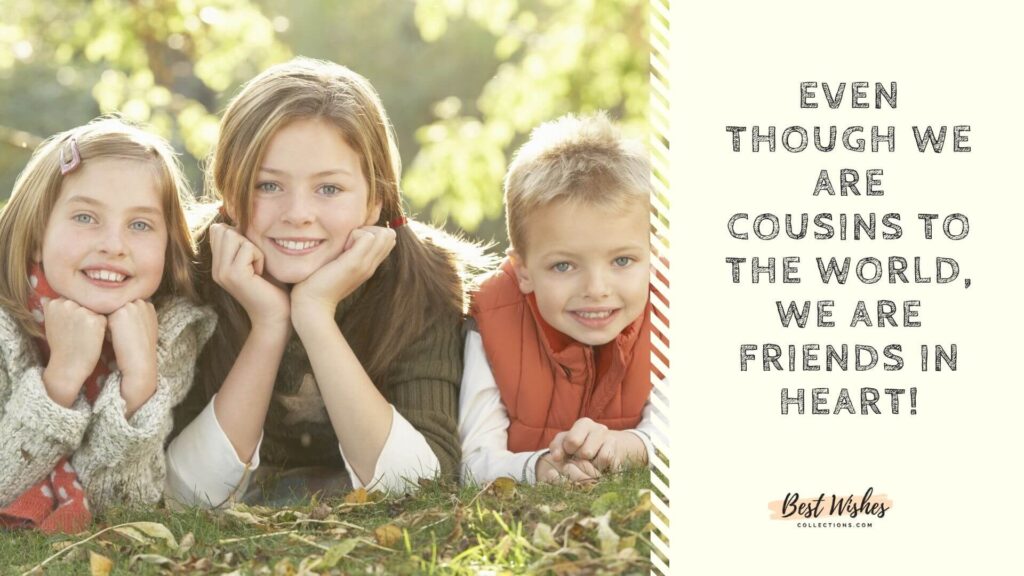 The freedom cousins enjoy is of a special kind. Freedom to share hearty thoughts and show real feelings.
A lovely cousin is a blessing from heaven. Wishing my cousin a happy day.
A place where cousins become friends is Grandma home. Wishing all cheers to my cousins.
I wish my cousins all cheers on this day and all days to come. Happy cousins day
Many of my favorite memories are liked with you dear cousin. Wishing you a great day with cheers.
Today is a special day for me because I can talk to my cousin about all the memories we have created together. Happy cousin's day.
We shared a home which just more than a home, but heaven! I love you, my cousin!
Sharing feelings, sharing childhood memories was my favorite with you! Happy day.
You are a bright star from the sky who always shines brightly on me. Happy cousins day.
Family love is forever and cousins love is eternal!
A cousin is where you find both a brother and a friend!
How could I live without you! My blood flows in you!
To all the crazy cousins, here wishing a happy cousins day.
Funny Cousin Day Quotes
All the days spent with our cousins are very special, we play together, complete our holiday homework, and enjoy each and every moment of our holiday. That fun is really limitless. Now take a moment and share some funny cousin day quotes with your cousins and remember all those funny and craziest moments you spent together.
"When you have cousins, you have smiles and happiness in your life!!!"
"Always be cautious of your cousins because they are the ones who know the worst of your secrets and have the worst of your pictures."
"If you want to celebrate life, do it with your cousins as you will not get any annoying calls from family."
"You have more spice in life when you have cousins in your life, best angels sent by God!!!"
"Celebrate the best relations in your life on National Cousins Day as they are truly the blessings by Almighty."
Cousins Day Quotes
On this special day, reach out to your favorite cousins and wish them well either via a phone call, a social media message, or a quick text message or mail. Let them know that you are thinking of them and all the fun and exciting memories you were able to make in the past.
"Cousins are those rare people who ask how we are and then wait to hear the answer." – Ed Cunningham
"With cousins around, you know you are with the best of the people. Warm wishes on Cousins Day to my people."
"I always call my cousin because we're so close. We're almost like sisters, and we're also close because our moms are sisters." – Britney Spears
"Cousins are Cool to see, Impossible to Forget and True to your heart." – Leo Farno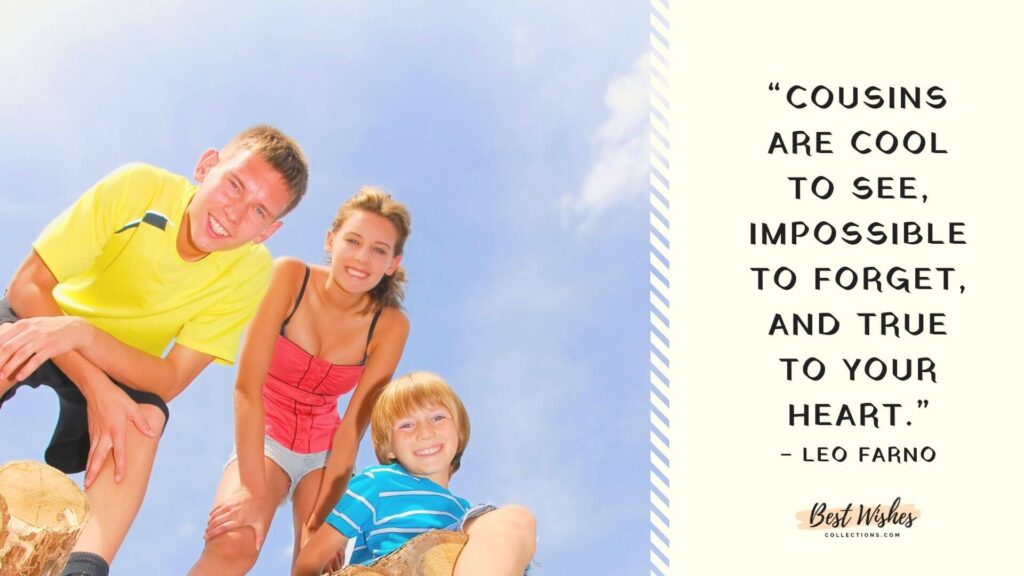 "Love my family, but my favorite are my cousins." — Unknown
"There are so many good memories that we have together that make this life worthy. Happy Cousins Day to my amazing cousins."
"Every man sees in his relatives, and especially in his cousins, a series of grotesque caricatures of himself." – H. L. Mencken
"Cousins are childhood playmates who grow up to be forever friends." — Unknown
"Be careful who you make memories with. Those can last a lifetime." — Ugo Eze
"Blood makes you related. Loyalty makes you family." — Unknown
"Always better together." — Jack Johnson
Cousins are ready-made friends we get in our life!
"Cousins are friends that will love you forever." – Constance Richards
"Cousins are people that are ready-made friends, you have laughed with them and remember good times from a young age, you have fights with them but you always know you love each other, they are a better thing than brothers and sisters and friends cause there all pieced together as one." – Courtney Cox
"In the cookie of life, cousin are the chocolate chips." — Salman Rushdie
Cousins are ready-made friends we get in our life!
Friendship is the only cement that will ever hold the cousins together.Happy cousins Day
Happy Cousins Day! Cousins for life!
A cousin like you is like a double scoop of fun. Friend and Cuz all in one! Happy Cousins Day!
Cousins are connected heart to heart. Distance and time can never break them apart. Happy Cousins Day!
A real cousin is someone who walks in when the rest of the world walks out. Happy Cousins Day!
Cousins are many. Best friends are few. What a rare delight to find both in you. Happy Cousins Day!
When you are alone remember that you've got great cousins. Happy Cousins Day!
Cousin Quotes for Cousins Who Are Best Friends
"Happiness is having crazy cousins." – Unknown
"We might not have it all together, but together we have it all." – Unknown
"Cousins are usually the first friends we have as children. They are the best of both worlds because they are family and friends at the same time." – Unknown
"Cousin to cousin we'll always be, special friends from the same family tree." – Unknown
"We didn't realize we were making memories, we just knew we were having fun." – Winnie the Pooh
"A cousin a day keeps the boredom away." – Unknown
"Born as a cousin, made as a friend." – Unknown
Cousins from the beginning, friends till the end! Happy Cousins Day.

"Friends are forever, cousins are for life!" – Unknown
"Treasure your cousins, they were your first friends and will love you forever." – Unknown
"Cousins are friends that will love you forever." – Unknown
"Never forget who was with you from the start." – Ziad K. Abdelnour
Win, lose, or draw, you're all my cousins and I love you." – Chill Wills
"A cousin sees the first tear, catches the second, and stops the third." – Unknown
"No one will ever be as entertained by us as us." – Unknown
"The love between cousins knows no distance." – Unknown
"Cousins are sisters you never had." – Unknown
"Your family is the best team you could ever have." – Unknown
"Cousins are different beautiful flowers in the same garden." – Unknown
"Cousins by blood—friends by choice." – Unknown
"My cousins are shareholders of my soul." – Unknown
"Cousins are childhood playmates who grow up to be forever friends." — Anonymous
"I like spending time with cousins." – Jacob Tremblay
"The night before the cousins came, I couldn't sleep." – Katie Yamasaki
"Friends might choose you at some point in your life, but cousins loved you from the start." — Anonymous
Final Words-I hope you like reading Happy Cousins Day Quotes Also, If you've found it useful, please download and share it with your family and friends on social media.
If you like these quotes, feel free to pin them on Pinterest and share them around! Happy reading! Thanking you for visiting our bestwishescollections, for more updates on thoughts and quotes, please visit regularly for more updates.
Please Do Follow us on Facebook and Instagram.
Share these Happy Cousins Day quotes with your friends and family!
Happy Cousin's Day Greetings Video
Related Articles:
Happy Women's Day Quotes And Greetings That Celebrate…
Happy Sisters Day Quotes and Greetings
50 Truly Inspirational Republic Day Quotes and Greetings
Happy Cousin's Day Wishes Images
Instagram Captions for Pictures With Your Cousin
Cousins are like the ultimate built-in BFFs.Keep scrolling for 10 charming captions that are perfect for every Instagram post with your cousin. Cousins are such special family members to have growing up. These cousin captions for Instagram include funny cousin quotes for cousin Instagram hashtags, a caption about cousin group pics, and many more
"Cousins are friends that will love you forever."
"Cousins by blood—friends by choice."
"Cousin to cousin we'll always be, special friends from the same family tree." 
"Cousins are the barometers of how fun a family get-together will be." 
"Nobody will understand the craziness of your family better than your cousins."
"Be careful who you make memories with. Those can last a lifetime."
"Always better together."
"Cousins are the barometers of how fun a family get-together will be. Are the cousins going to be there? Fun."
"You don't choose your family. They are God's gift to you, as you are to them." — Desmond Tutu
"Family: a little bit of crazy, a little bit of loud, and a whole lot of love." 
"Happiness is … having the world's best cuzin."
"A cousin is like a warm quilt wrapped around the heart."