Teachers are an important role model for all educational organizations. Happy Teachers day is celebrated on the 5th of September every year in India in the memories of Dr. Sarvepalli Radhakrishnan, who was an educationalist by heart. Globally the day is celebrated on the 5th of October
Wish your teacher on this special day to make him feel greater by these happy teacher's day wishes, teachers' day messages, and teacher's day quotes; which is a better way to thank your teacher.
Happy Teachers Day Wishes
All the efforts and hard works you invested to bring out the best in us can never be repaid in mere words. We can only feel grateful for having a teacher like you!
Dear teacher, thanks for showing me the path to success. Happy Teacher's Day!
It has been a long time since I have passed out of school, but even today I miss your classes. Happy Teacher's Day!
A teacher's purpose is not to create students in his own image, but to develop students who can create their own image.
A good teacher is a way to success. I was lucky enough to meet you. You have been such a wonderful friend and my biggest support, and I can't be more grateful to you. Happy Teachers'Day!
Teacher, you have shaped me to become the person I am today. I am forever grateful for everything you have for me! Happy teachers' day!
Congratulations on this special day, dear Teacher. Big appreciation for teaching and educating us.
Thanks for being our safe zone, someone who tried to be our friend first and a teacher later! We all owe you so much! Happy teacher's day!
Thanks for always taking care of us and reassuring that all of us were doing okay; you are the worlds' best teacher! Thank you for everything
Teachers Day Quotes
A good teacher not only imparts knowledge to their students but they inspire, encourage and instil curiosity to find solutions to problems. To honour these remarkable people in our lives, Teachers' Day is celebrated as an important day world wide.
If a country is to be corruption free and become a nation of beautiful minds, I strongly feel there are three key societal members who can make a difference. They are the father, the mother, and the teacher." – Dr. APJ Abdul Kalam
Education is not the filling of a pail, but the lighting of a fire." – William Butler Yeats
The art of teaching is the art of assisting discovery." – Mark Van Doren

"Wherever you find something extraordinary, you'll find the fingerprints of a great teacher." –Arne Duncan
"Those who educate children well are more to be honored than parents, for these only gave life, those the art of living well." – Aristotle
"Let us remember: One book, one pen, one child, and one teacher can change the world." – Malala Yousafzai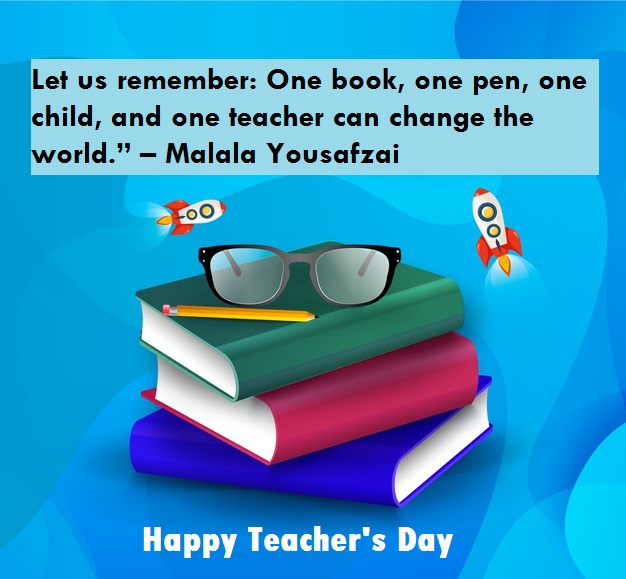 "A good teacher is like a candle – it consumes itself to light the way for others." – Mustafa Kemal Atatürk
"Technology is just a tool. In terms of getting the kids working together and motivating them, the teacher is the most important." – Bill Gates
The teacher who is indeed wise does not bid you to enter the house of his wisdom but rather leads you to the threshold of your mind." – Khalil Gibran
"Good teachers know how to bring out the best in students." – Charles Kuralt
Funny Teachers Day Wishes
"Good teachers know how to bring out the best in students." – Charles Kuralt
Being a new teacher is like trying to fly an airplane while building it.
Cheers to all of the teachers who give out pencils every single day know that they'll never get them back.
Student: Ma'am, I don't think I deserve a zero in this test
Teacher: Yes I know, but that's the lowest I can give you.
Student: Will you punish me for something that I didn't do?
Teacher: Of course not.
Student: Then I want to tell you that I did not do my homework.
Today is Teacher's Day…. It is time to give your wife a rose and wish her on this day because there is no one else who gives you more lectures than her.
Inspirational Messages for Teachers Day
Parents are a child's first teacher who gives them life lessons and after them comes to the Guru or teacher who leads the child ahead in life.
Thank you for being my guide and teaching me life lessons. Happy Teachers' Day to all my teachers!

Good teachers build knowledge, great teachers build character. Sending you my heartfelt wishes on this Teachers' Day!
Teachers are: talented, elegant, admirable, cherished, honorable, efficient, and responsible.
You accepted the challenge to teach me, I accepted the challenge to learn, and hence we made a great team. Thank you for everything!
Teachers inspire hope, ignite imagination and instill the love of learning.
Dearest teacher, you have pure love for teaching and I have entire love for learning. Thank you for fueling my passion.
You are my role model, my most favorite teacher. May every child be blessed with a teacher just like you.
A good teacher teaches from the heart.
Teaching is the profession that teaches all the other professions.
Teachers open the door. You enter by yourself. – Chinese Proverb

Happy Teacher's Day Card Messages