A.P.J. Abdul Kalam Quotes -Popularly known as the missile man, Dr. APJ Abdul Kalam is one of the most loved personalities in the world. Not only kids but youth loved this missile man due to his playful, generous, giving, caring, and loving nature. The legend has left-back, for us, some really great teachings. Let's see some of them.
A.P.J. Abdul Kalam Quotes on Dreams
"A dream is not that which you see while sleeping, it is something that does not let you sleep."
"If you want to shine like a sun, first burn like a sun."
"You have to dream before your dreams can come true."
"To succeed in your mission, you must have single-minded devotion to your goal."
"If you fail, never give up because FAIL means "First Attempt In Learning".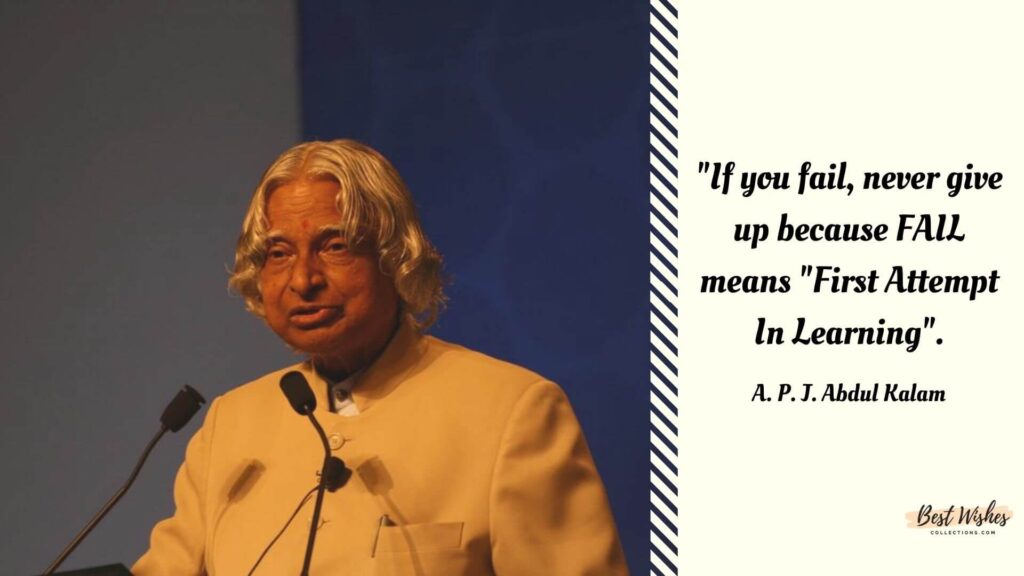 "All birds find shelter during a rain, but eagle avoids rain by flying above the clouds."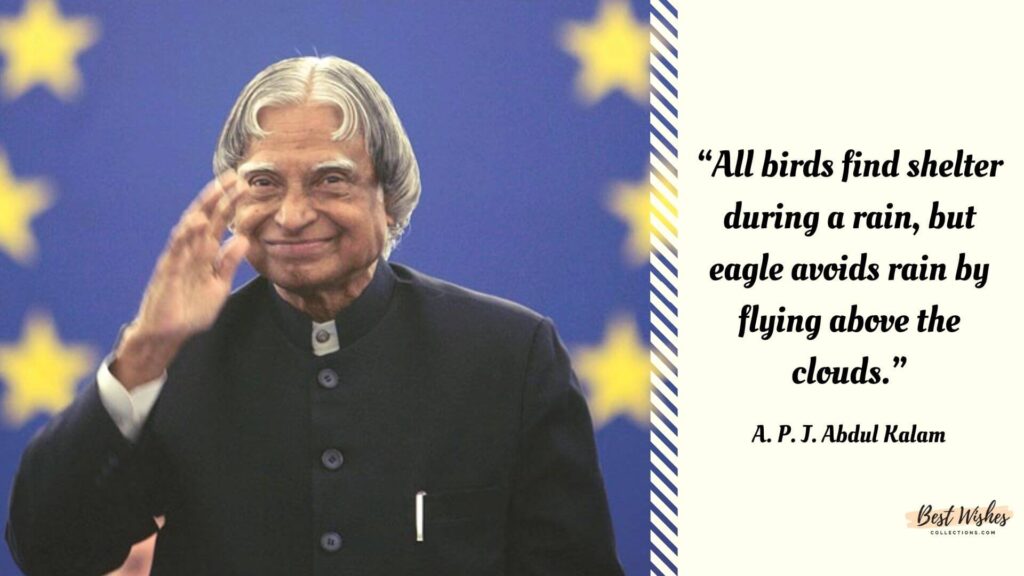 Best Motivational A.P.J. Abdul Kalam Quotes
Known as the Missile Man of India, Dr APJ Abdul Kalam contributed not only to science but also served as the 11th President of India and was widely regarded as the 'People's President'.He often spoke to children and the country's youth — inspiring them to think big in life; he also penned a number of books. Here are some of his most inspiring quotes.
"Accept your past without regret, handle your present with confidence, and face your future without fear."
"The best brains of the nation may be found on the found in the last benches of the classroom."
Climbing to the top demands strength, whether it is to the of Mount Everest or to the top of your carrier."
"Don't take rest after your first victory because if you fail in second, more lips are waiting to say that your first victory was just luck."
"Let us sacrifice our today so that our children can have a better tomorrow."
"Mistake is a single page of life, but relation is a complete book. so don't lose a full book for a single page."
"Failure will never overtake me if my definition to succeed is strong enough."
"Success is when your 'Signature', turns into 'Autograph'."
"Don't read success stories you will gate only message, Read failure stories you will get some ideas to get success."
Inspiring A.P.J. Abdul Kalam Quotes
Umbrella can't stop the rain but can make us stand in rain. Confidence may not bring success but gives us the power to face any challenge in life."
"Excellence is a continuous process and not an accident."
"All of us do not have equal talent. But, all of us have an equal opportunity to develop our talents."
"Never stop fighting until you arrive at your destined place – that is, the unique you. Have an aim in life, continuously acquire knowledge, work hard, and have perseverance to realise the great life."
"Confidence and hard-work is the best medicine to kill the disease called failure. it will make you a successful person."
"Be active! Take on responsibility! Work for the things you believe in. If you do not, you are surrendering your fate to others."
"Creativity is seeing the same thing but thinking differently."
"Love Your Job but don't love your company, because you may not know when your company stops loving you."
"Thinking is the capital, an enterprise is a way, and hard work is the solution."
"No sanction can stand against ignited minds."
"Life is a difficult game. You can win it only by retaining your birthright to be a person."
Abdul Kalam Quotes In English For Students
APJ Abdul Kalam was a source of inspiration for tens and thousands of youngsters across the world because of his life philosophy and teachings.
Small aim is a crime; have great aim.
You cannot change your future, but you can change your habits, and surely your habits will change your future."
Educationists should build the capacities of the spirit of inquiry, creativity, entrepreneurial and moral leadership among students and become their role model.
"Dream, dream, dream. Dreams transform into thoughts and thoughts result in action."
Winners are not those who never fail but those who never quit.
If you fail, never give up because Fail means "First Attempt In Learning
Related: Inspiring life quotes that will make your life meaningful
Final Words-I hope you like reading A.P.J. Abdul Kalam Quotes Also, If you've found it useful, please download and share it with your family and friends on social media.
If you like these quotes, feel free to pin them on Pinterest and share them around! Happy reading! Thanking you for visiting our bestwishescollections, for more updates on thoughts and quotes, please visit regularly for more updates.
Please Do Follow us on Facebook and also you can follow bestwishescollections on Instagram.