Raksha Bandhan, also Rakshabandhan, is a popular, traditionally Hindu, annual rite, or ceremony, is a festival in which sisters tie a rakhi on the wrists of their brothers, and in return, the brothers shower them with a lot of love and special gifts. The relationship between brothers and sisters is very special and unique, on one side they fight with each other as no one does and on other hand, they can't live without each other.
Here are some beautiful greeting cards and Rakshabandhan images you can send to your loved brothers on this Rakhi if you are not living in the same city where you can physically go and tie rakhi.
Rakshabandhan Date 2022
In the year 2022 Rakshabandhan will be celebrated on 11th August, Sunday.
Raksha Bandhan (Rakhi) Wishes
Here we list down a collection of some good Rakshabandhan wishes, messages, and quotes that you can send to your brother or sister and make them feel loved if you are not there with your siblings.
History
According to legends, the origin of the day can be traced back to the day Lord Krishna was flying a kite and cutting his finger. The story goes that Draupadi was so distressed on seeing him hurt that she tore a piece of cloth and tied it to his bleeding finger. Krishna was deeply moved by this gesture and promised to take for her from evil. Later, he did protect her from the Kauravas.
According to another story, Vishnu was confined in King Bali's house after being defeated thrice. In order to get her husband back, Lakshmi had tied a thread on the King's wrist. He could not refuse and let go of her husband. (Source-The Indian Express)
Rakshabandhan Wishes for Brothers
Raksha Bandhan Wishes For Big Brother
Only a big brother like you can love like a father, care like a mother, annoy like a sister, and support like a friend. Happy Raksha Bandhan!
Rakhi is tread that join both us together with some commitments. Happy Rakshabandhan to you brother.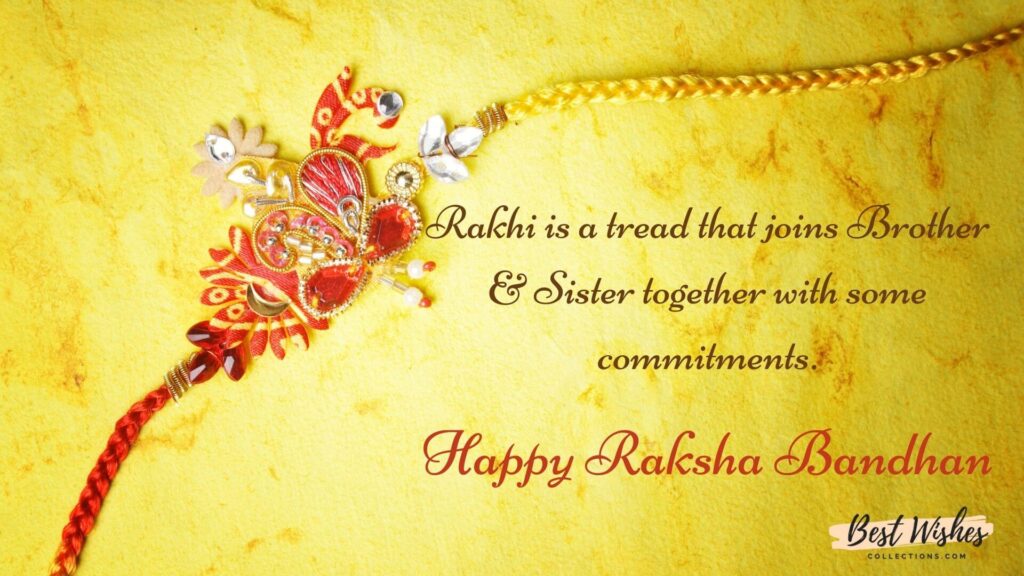 Today, on the auspicious occasion of Raksha Bandhan, I want to thank you from the bottom of my heart for being the best brother of the World! Happy Raksha Bandhan
I wish you the most amazing Raksha Bandhan Bhai. I love you the most and can't imagine my life without you.
The knot of that thread tied to the hand of her brother, is a knot of love, care, support, respect and security. Happy Rakhi!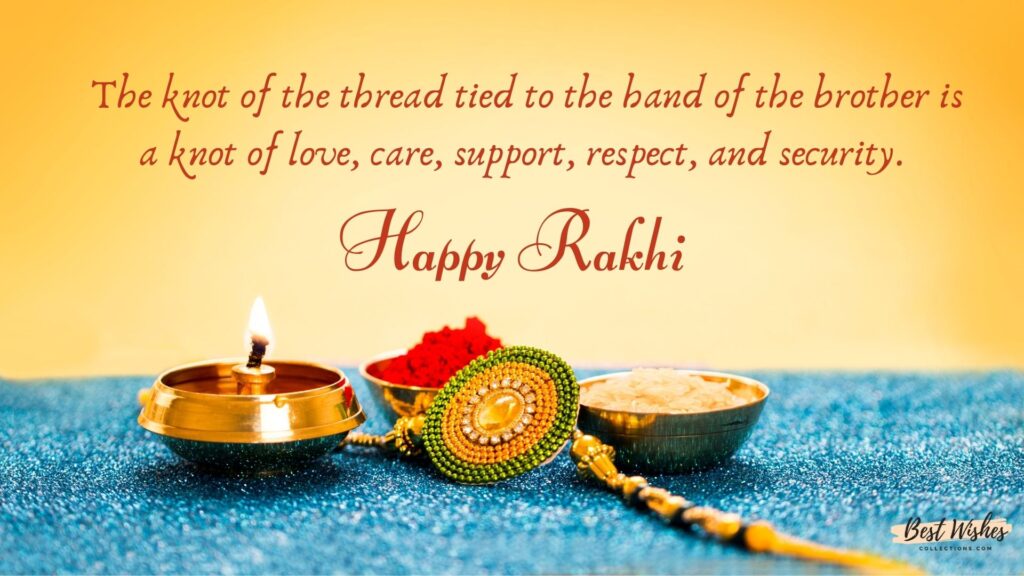 Happy Rakhi from mine to yours, let's celebrate the journey of our childhood together and enjoy this beautiful festival!
May God grant you a happy, long and healthy life. Happy Rakhi, dear brother!!!!
Thanks for always being my pillar of strength. I am very blessed to have a brother like you. Happy Raksha Bandhan!
Life is beautiful because you are a part of my life dear brother. Happy Raksha Bandhan.
You are one of the most precious gifts given by the almighty God to me, and I am always thankful to him. You are the most valuable person in my life who always stands by me at every stage of life. Thanks for being with me every time. Will meet soon!
I may search the world over; there could not be a better brother than you. Happy Raksha Bandhan Bhaiya!
On the pious occasion of Rakshabandhan, I just want to say that I am the luckiest sister in the world to have you as my brother. My love and wishes are always with you. Wish you a happy Rakshabandhan!
Happy Rakshabandhan! May this festival of love and commitment fills all beautiful colors in your life
Raksha Bandhan Wishes For Little Brother
On the occasion of Rakshabandhan – the festival of siblings. Lets Join hands and make a commitment with nature to protect it.
The warmth of love between brothers and sisters should remain lifelong. Happy Rakshbandhan.
A humble request to brothers, don't go empty hand in-front of sisters today. If can't buy gifts, give her ur blessings.
My Little brother, I don't know how life will take a turn, but I promise you the place you hold in my heart no one ever will replace. Happy Raksha Bandhan.

The greatest gift our parents gave us was each other. Happy Rakshabandhan to my sweet Lil brother.

There is nothing sweet like the bond between a big sister and a little brother. Happy Rakhi my baby brother. Love you!
Also Check-Motivational Quotes & Messages
Rakshabandhan Wishes for Sisters
This festival celebrates a special bond between brother and sister. In this festival, a sister ties Rakhi (wrist band) on the wrist of her brother and prays for his well-being. On this joyous occasion of Raksha Bandhan, here's a list of Happy Raksha Bandhan quotes for sisters to share with your loved ones:
Dear Sis, Wish u Happy Raksha Bandhan, lets celebrate this festival of love again with the same zeal and enthusiasm
Warm greetings 4 Raksha Bandhan sweet sister…U r & have always been the bestst sister..
A sister is the shadow of all the beautiful memories of the childhood. Happy Raksha Bandhan sweetest sister!!
We might disagree, fight and argue quite often, but that doesn't change my love for you. Wishing you a Happy Raksha Bandhan!
We might not be together on this Raksha Bandhan, but that doesn't change my love for you. I promise to always take care of you and protect you. Happy Raksha Bandhan!
I don't need anyone else as long as you are by my side, sister. Thank you so much for loving me, supporting me, guiding me and being as crazy as me. You're the best sister a brother can ask for. Happy Raksha Bandhan!
I don't need anyone else as long as you are by my side, sister. Thank you so much for loving me, supporting me, guiding me and being as crazy as me. You're the best sister a brother can ask for. Happy Raksha Bandhan!
I hope our love for each other never diminishes.
Happy Raksha Bandhan!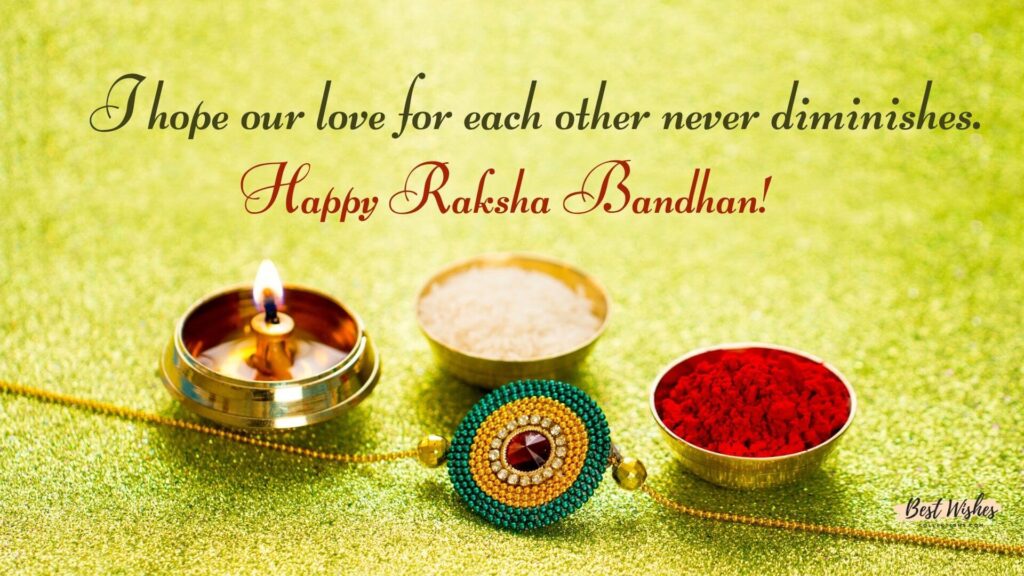 Siblings can fight and argue, but they can never run out of love for each other. Sending some of that love and best wishes to you, dear sister. Happy Raksha Bandhan!
On the occasion of Raksha Bandhan, I want to promise you, my sister, that no matter what happens, I shall always stand by your side!
Its a promise of your brother that no matter what, I will always support and love you. Happy Raksha Bandhan!
Rakshabandhan Quotes
These evergreens yet expressive citations fill in as the most superb alternative to pass on your feelings and make the festival increasingly agreeable. You can send these Rakhi statements to your sisters, siblings, or who are far away from you
"What brothers say to tease their sisters has nothing to do with what they really think of them."― Esther M. Friesner, Nobody's Princess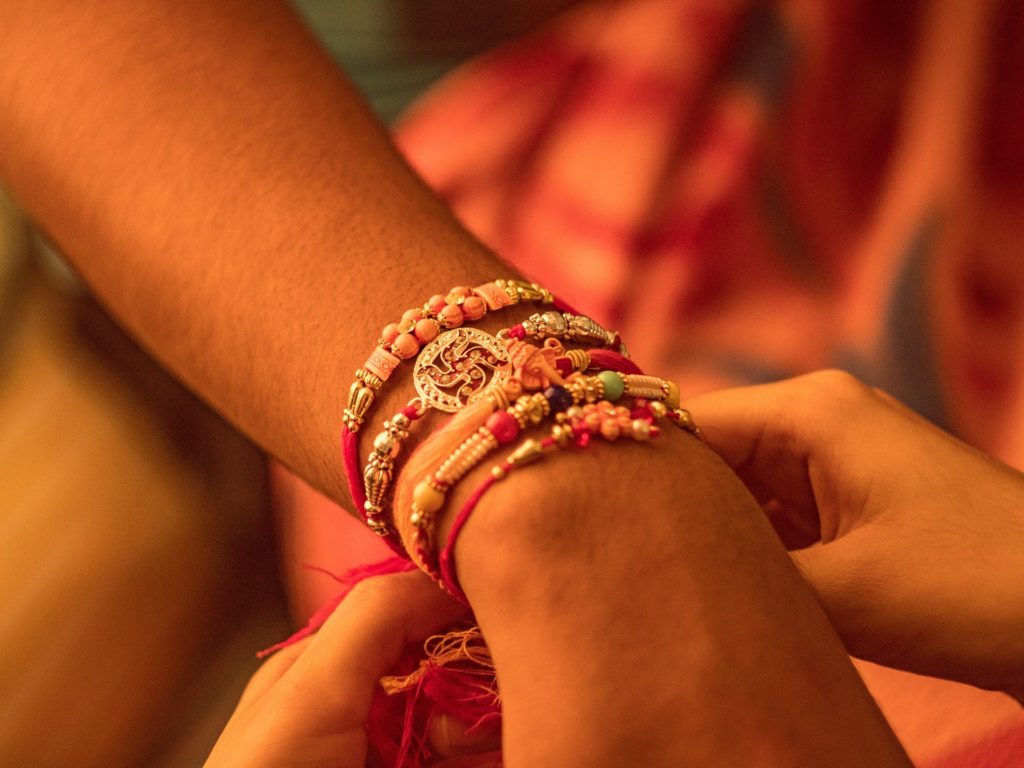 A brother is a friend God gave you; a friend is a brother your heart chose for you. – Proverb
"There's no other love like the love for a brother. There's no other love like the love from a brother." –Astrid Alauda
"It's hard to be responsible, adult and sensible all the time. How good it is to have a sister whose heart is as young as your own." Pam Brown
"True siblings are bound together by far more essential things than blood, while more times than many blood isn't thicker than water." ― Constantina Maud, Hydranos
"They say that no matter how old you become, when you are with your siblings, you revert back to childhood." – Karen White
The greatest gift our parents gave us was each other. – Anonymous
A sister is a little bit of childhood that can never be lost. – Marion C. Garretty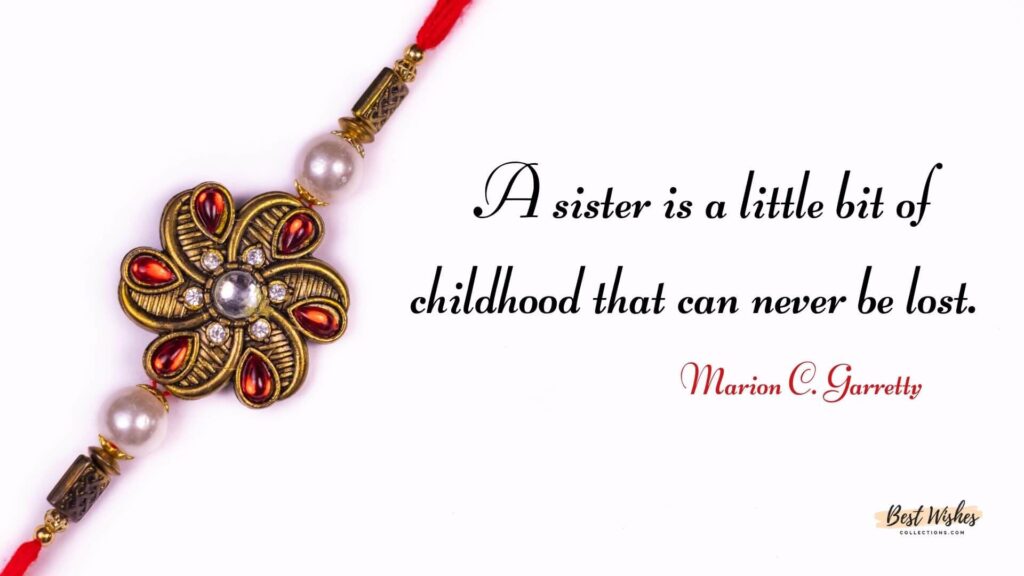 A sibling may be the keeper of one's identity, the only person with the keys to one's unfettered, more fundamental self. – Marian Sandmaier
Help your brother's boat across, and your own will reach the shore. – Hindu Proverb
Rakshabandhan Images & Wallpapers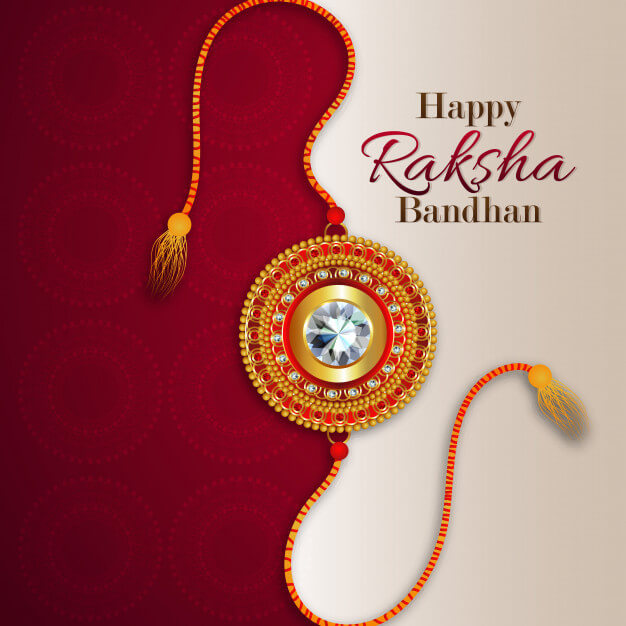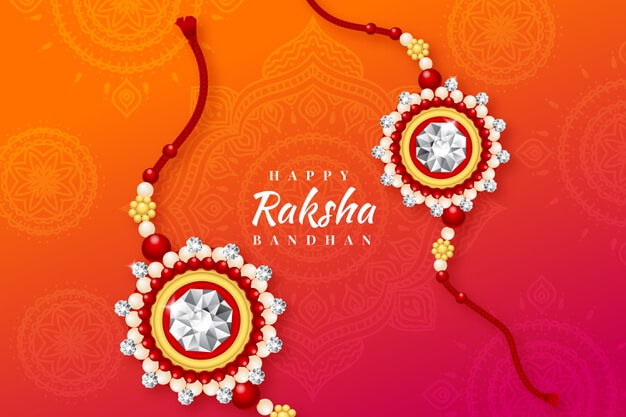 We trust you discovered some wonderful Raksha Bandhan statements and Rakhi messages for your siblings and sisters, who can't meet up to praise the celebration. Regardless of whether you send these warm Raksha Bandhan messages in flawlessly manually written cards or as instant messages, your siblings will adore you for recollecting them and furthermore love your essence in their lives. Cheerful Raksha Bandhan!
Beautiful Happy Raksha Bandhan Wishes In Hindi
तेरी खुशी ही मेरी दुनिया है मेरी प्यारी बहन !! हैप्पी रक्षा बंधन!
कच्चे धागों से बनी पक्की डोर है राखी,
प्यार और मीठी शरारतों की होड़ है राखी,
भाई की लम्बी उम्र की दुआ है राखी,
बहने के पवित्र प्यार की दुआ है राखी।
Happy Raksha Bandhan 2022
चंदन का टीका रेशम का धागा,

सावन की सुगंध बारिश की फुहार,

भाई की उम्मीद बहना का प्यार,

मुबारक हो आपको "रक्षा-बंधन" का त्योहार
Happy Raksha Bandhan 2022
बहनों की मोहब्बत की है अज़्मत की अलामत
राखी का है त्यौहार मोहब्बत की अलामत
याद हैं हमे हमारा वो बचपन,
वो लड़ना, वो झगड़ना और वो मना लेना,
यही होता है भाई-बहन का प्यार,
और इस प्यार को बढ़ाने आ रहा है
रक्षाबंधन का त्‍योहार !
प्रेम और विश्वास के बंधन को मनाओ,
जो दुआ मांगो उसे तुम हमेशा पाओ,
राखी का त्‍योहार है, भैया जल्दी आओ,
अपनी प्यारी बहना से आकर तिलक लगवाओ !!
किसी के ज़ख़्म पर चाहत से पट्टी कौन बांधेगा
अगर बहनें नहीं होंगी तो राखी कौन बाँधेगा
ज़िंदगी भर की हिफ़ाज़त की क़सम खाते हुए
भाई के हाथ पे इक बहन ने राखी बांधी
चन्दन की डोरी फूलों का हार, आये सावन का महिना और राखी का त्यौहार, जिसमे है झलकता भाई-बहन का प्यार…
कभी हमसे लड़ती है, कभी हमसे झगड़ती है, लेकिन बिना कहे हमारी हर बात को समझने का हुनर भी बहन ही रखती है।
सावन की रिमझिम फुहार में,

रक्षाबंधन के त्योहार में,

भाई बहन की मीठी सी तकरार में,

खूब प्यार और स्नेह मिले मेरे भाई को इस संसार में,

रक्षाबंधन की ढेर सारी शुभकामनाएं
बहन का प्यार किसी दुआ से कम नहीं होता,
वो चाहे दूर भी हो तो गम नहीं होता।
अक्सर रिश्ते दूरियों से फीके पड़ जाते हैं,
पर भाई-बहन का प्यार कभी कम नहीं होता।
रक्षा बंधन की शुभकामनाएं
हर ओर से आ रही खूशबू मिठाइयों की

आज बहना ने बनाया है तकदीर भाई की

बांधेंगी अपनी डोर मेरी दोनों कलाई में

क्योंकि त्योहार है हम सब की भलाई की
न मांगे वो धन और दौलत, न मांगे उपहार,

चाहत बहन की इतनी कि बस बना रहे प्यार,

गम न कोई पास में आए, खुशियां मिलें हजार,

मेरी बहन की हर मनोकामना पूरी हो यही है दुआ दिल से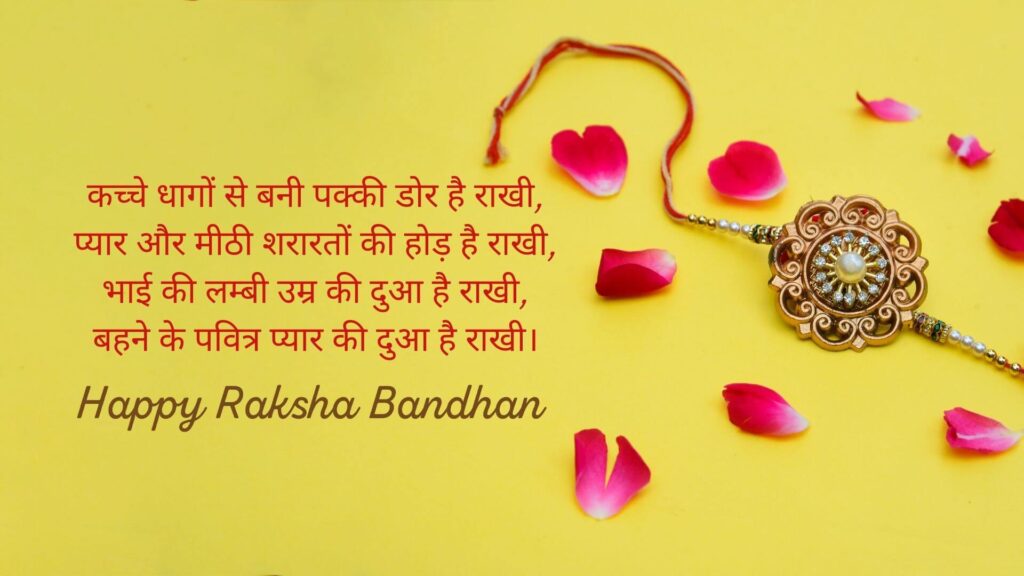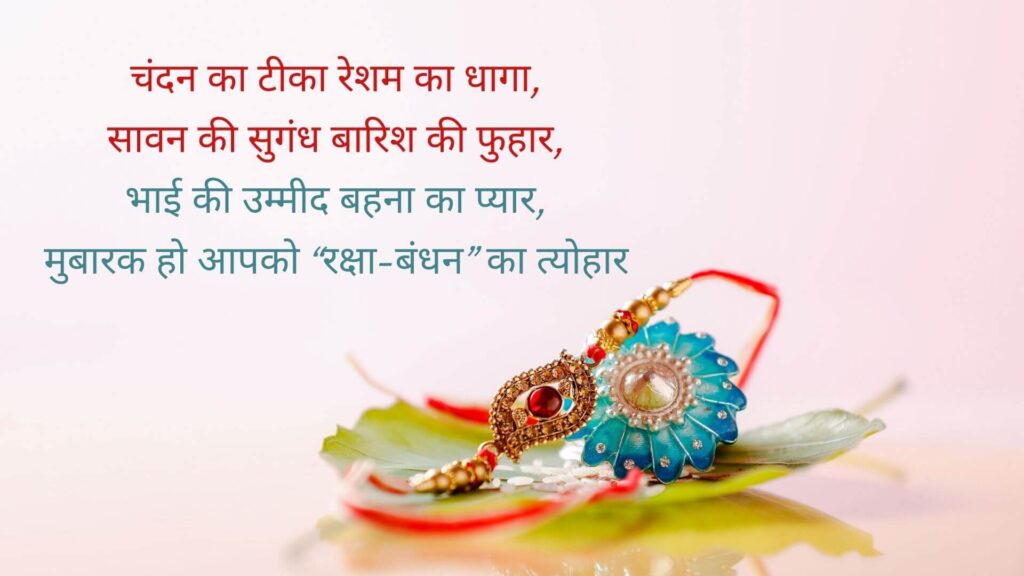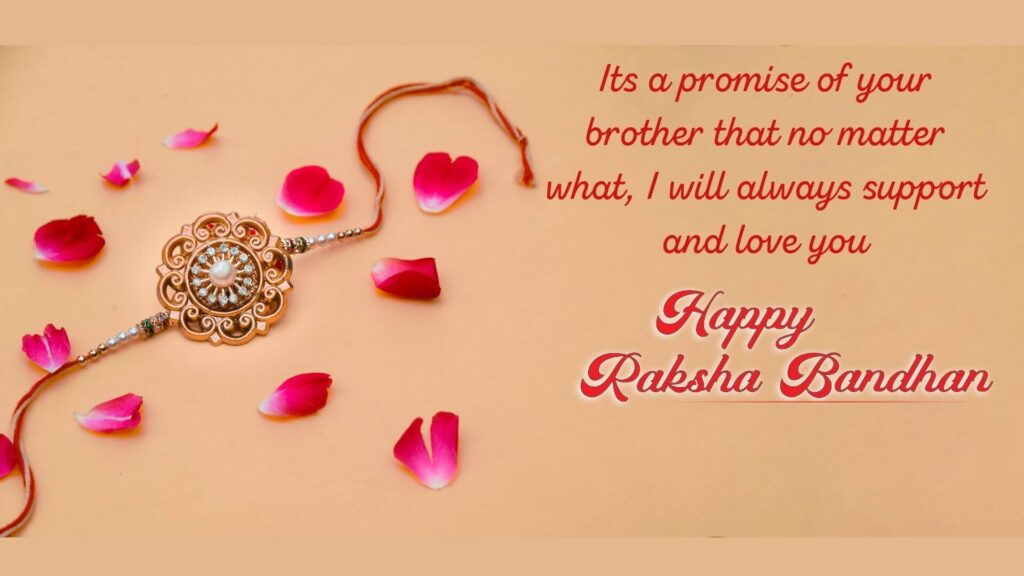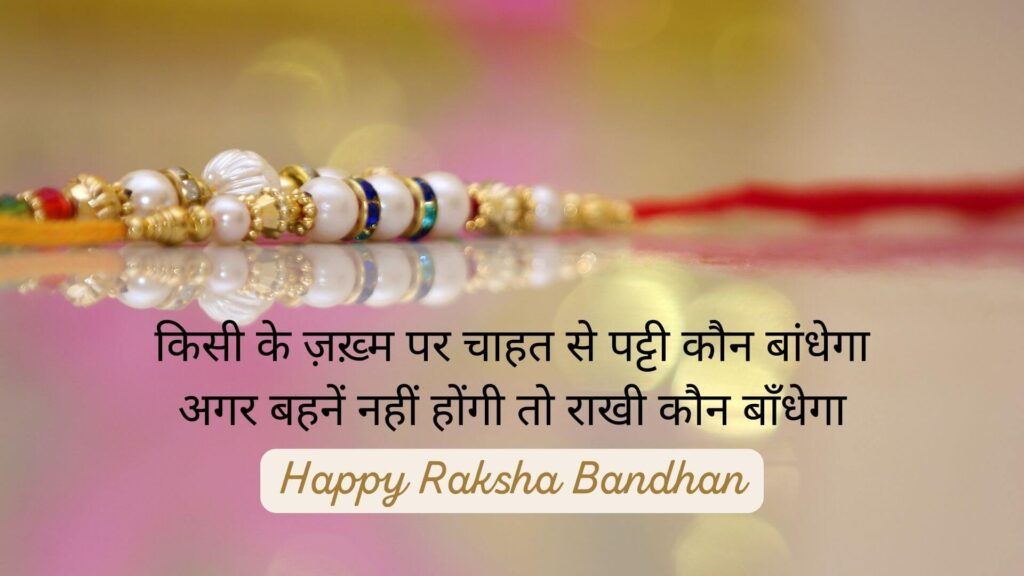 Raksha Bandhan Wishes For Indian Army
The reason our country is safe and secure is that you safeguard us. We convey to you our love and respect on this auspicious occasion of Rakhi.

Dear 'jawan' brothers, Happy Raksha Bandhan from all your Indian sisters. Thank you for protecting us from our enemies and keeping us safe.

Raksha Bandhan Day reminds us of our Indian Army brothers, who are standing tall on the borders and safeguarding our families. We pray for your long life and happiness.

Our Rakhi celebrations are incomplete, without sending best wishes to Indian Army soldier 'brothers'. Because of them, we could celebrate this day with our families and loved ones, without any worry and fear.

Our Indian soldiers truly deserve the first wishes on the occasion of Raksha Bandhan. They selflessly protect us day and night, even though we don't tie Rakhi to them.
Raksha Bandhan Captions For Instagram
Happy Raksha Bandhan to my sweet…

B – Blissful
R – Reliable
O – Outstanding
T – Tender
H – Helpful
E – Exemplary
R – Responsible
If Tom and Jerry were siblings they would look like us.
Happiness is having an elder sister who cares for you like a mother.
We disagree. We fight. We argue. But my love for you is eternal.

You are never alone when there is a sister beside you.

Big pain with a big heart, that's my big brother. Kidding!

The best feeling in life is to have a brother who always fights with me but cannot see a tear in my eye.

The best part of having a brother like you is that I never feared losing a best friend.

Annoying things are really hard to forget, just like you my brother. Happy Rakhi!
Check out this colorful Pinterest board of Happy Raksha Bandhan images. Feel free to Pin them, share and forward them to your dear friends. 
Final Words-I hope you like reading Rakshabandhan Quotes Also, If you've found it useful, please download and share it with your family and friends on social media.
If you like these quotes, feel free to pin them on Pinterest and share them around! Happy reading! Thanking you for visiting our bestwishescollections, for more updates on thoughts and quotes, please visit regularly for more updates.
Please Do Follow us on Facebook and also you can follow bestwishescollections on Instagram.