World Theatre Day is celebrated annually on March 27th to promote the art of theatre and its importance in shaping cultural heritage. It was first established in 1961 by the International Theatre Institute (ITI), a non-governmental organization affiliated with UNESCO. This day is celebrated by various theatre groups, organizations, and individuals around the world through performances, workshops, seminars, and other related activities.
World Theatre Day is an opportunity to celebrate the creativity, diversity, and community that the theatre represents. It is a chance to recognize the power of theatre to bring people together, provoke thought, and inspire change.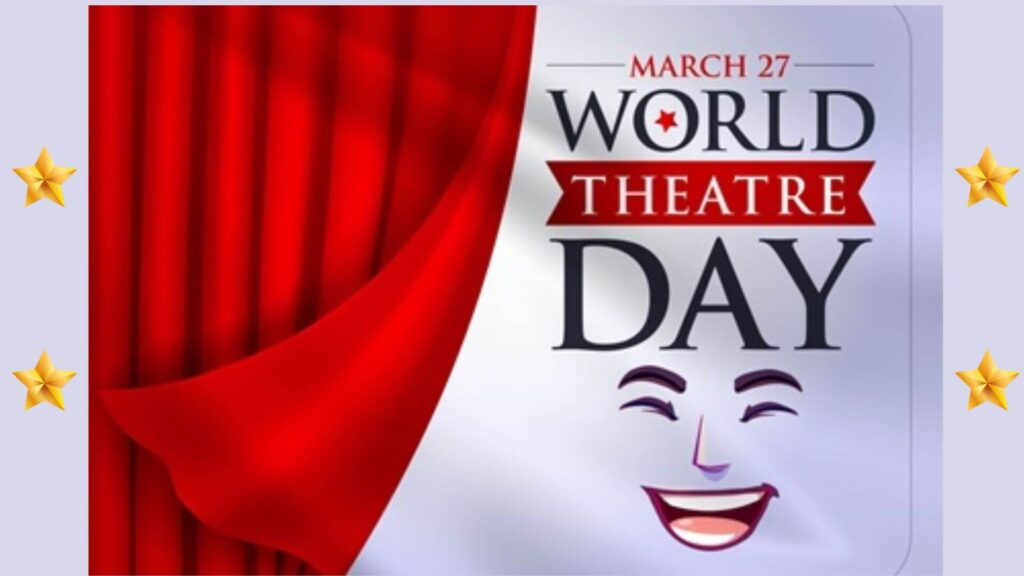 World Theatre Day 2023 Theme
Theatre and a Culture of Peace
World Theatre Day Quotes
"Movies will make you famous; television will make you rich, but the theater will make you good."- Terrence Mann.
"Theater is a verb before it is a noun, an act before it is a place."- Martha Graham.
"Theater is a sacred space for actors. You are responsible; you are in the driving seat."- Greta Scacchi.
"If it is true that good wine needs no bush, 'tis true that a good play needs no epilogue."- William Shakespeare, 'As You Like It'.
"Life is a theatre set in which there are but few practicable entrances." -Victor Hugo
"The novel is more of a whisper, whereas the stage is a shout," -Robert Holman
World Theatre Day Messages
Wishing a very Happy World Theatre Day to all theatre lovers. May we all join hands to preserve the theatres which form an important part of our lives.
In theatre, you have to be you because you cannot mask yourself with editing. On the occasion of World Theatre Day, sending warm wishes to you.
Theatres are not just another way to entertain ourselves but they are a way to learn something new, something more meaningful. Happy World Theatre Day.
The levels of performance and the complete feel of a theatre are something that cannot be expressed in words but can only be experienced in life. Happy World Theatre Day.
Let us make the most of World Theatre Day by promising ourselves that we will not let the theatres die with time. A very Happy World Theatre Day to you.
"Everyone is unique with special art, so let's celebrate this significant day with a fun cinematic world. Happy Wishes of World Theatre Day
"Theatre is are of expression your deep ideas in front of people. It may be funny, gloomy, sensitive but all is are of living."

World Theatre Day Wishes
"Theatre is not a combination of perfection but is the center of imperfection that is followed by perfect people. Wish you all on Theatre Day."
"Cinema is not following art, it is the art that will be followed by people that thinks that it is a special art, inherits in life."
Wish You all Happy Theatre Day, lets's join hands to entertain ourselves with our unique art of theatre.
With artificial digital entertainment you can entertain only your mind but not your body, so let's go to the theatre.
How to celebrate International Theatre Day?
There are many ways to celebrate World Theatre Day and show your appreciation for this art form. Here are some ideas:

Attend a performance: Check out local theaters and performance spaces in your area and attend a live show. It can be a play, musical, dance performance, or any other theatrical production that interests you.
Organize a theatre-themed event: Host a theatre-themed event in your community or workplace. You could organize a reading of a play, a theater workshop, or a panel discussion with actors, directors, or playwrights.
Support local theatre: Buy tickets to a show or make a donation to your local theatre company to support their work.
Spread awareness on social media: Share your love of theatre on social media by posting about World Theatre Day and the importance of this art form. Use hashtags like #WorldTheatreDay or #TheatreIsLife to connect with others who share your passion.
Read a play: Pick up a play and read it aloud with friends or family. It's a great way to appreciate the language and storytelling of theatre.
Take part in online events: Check out online events and performances organized by theatre groups and organizations around the world. Many theatre companies have adapted to the pandemic by offering online performances and events that you can enjoy from the comfort of your own home.

Remember, World Theatre Day is all about celebrating the art of theatre and its role in shaping our cultural heritage. Whatever you do to mark the occasion, make sure it reflects your appreciation for this wonderful art form.
For more Images-Click Here