World Bicycle Day is celebrated every year on June 3. If you are lacking motivation and need quotes about cycling to give you a boost – this article is here for you. Here are the best inspirational cycling quotes that will inspire you and give that extra motivation to do cycling.
The United Nations General Assembly declared the International World Bicycle Day in 2018. It is the result of Leszek Sibilski's campaign and the support of Turkmenistan and 56 different countries for World Bicycle Day.
World bicycle day quotes are mentioned for you to motivate and wish your near and dear ones on this special day which is celebrated on June 3 every year. We have compiled some of the best quotes for World Bicycle Day that you must check out right away.
My two favorite things in life are libraries and bicycles. They both move people forward without wasting anything. Peter Golkin
Every time I see an adult on a bicycle, I no longer despair for the future of the human race. H.G. Wells
Save the Planet. Ride a bike.
Bicycling is life with the volume turned up.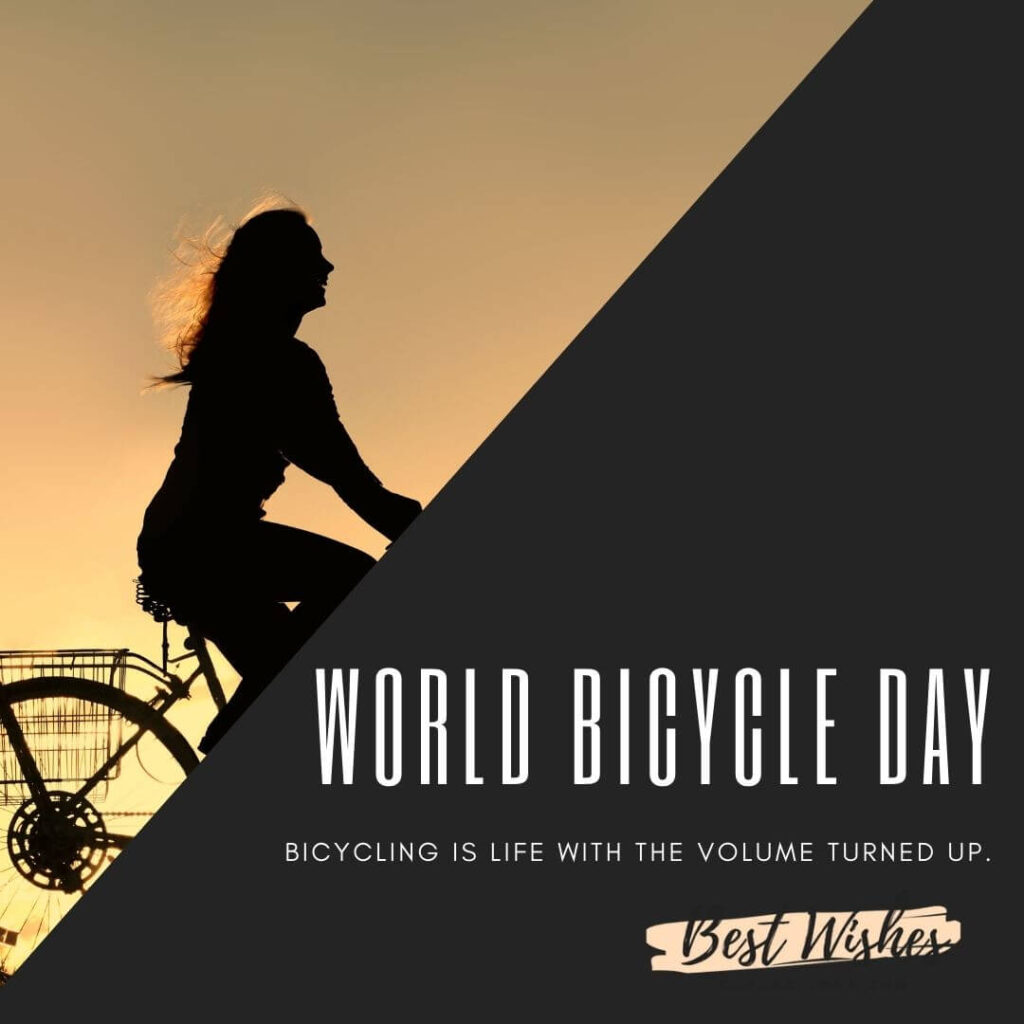 A bad day on a mountain bike always beats a good day in the office.
The best routes are the ones you haven't ridden.
Life is like riding a bicycle. To keep your balance, you must keep moving. Albert Einstein
"Nothing compares with the simple pleasure of a bike ride."John F. Kennedy
"Bicycling is the nearest approximation I know to the flight of birds."Louis J. Helle Jr
Happy World Bicycle Day 2021 Keep riding and keep safe.
"Bicycle means simplicity and simplicity means happiness!"
Celebrate World Bicycle Day on June 3! Cycling helps create healthier and more prosperous communities.
It's Bicycle Day! Away from the traffic and all the stress, try to stay healthy and enjoy the world around you! All love.
World Bicycle Day Messages, Quotes & Greetings
Why drive cars when you can cycle all the way! Happy World Bicycle Day!
Gift your child a bicycle this June and she or he will be both healthy and happy! Happy World Bicycle Day!
Here's to thank the United Nations for the recognition of this day. Happy Bicycle Day!
A bicycle ride a day to keep the gymnasium away! Happy Bicycle Day!
Let us hope that many people take up this practice of commuting by bicycles as it will cut down on the pollution on roads. Happy World Bicycle Day!
The benefits of riding a bicycle are immense. Here's to thanking the United Nations and wishing everyone a Happy World Bicycle Day!
The traffic on the roads will be less bothersome if there are more bicycles than cars. Happy World Bicycle Day!
Imagine your crush riding a bicycle back home from work next to you on a lonely lane. Yes, bicycle rides can be romantic too! Happy World Bicycle Day!
Let us all support the United Nations in this noble cause and help spread awareness about the health benefits of a bicycle. Happy World Bicycle Day!
Adopting the bicycle as a means of daily commutation will help in the improvement of the mental and physical health of the people. Happy World Bicycle Day!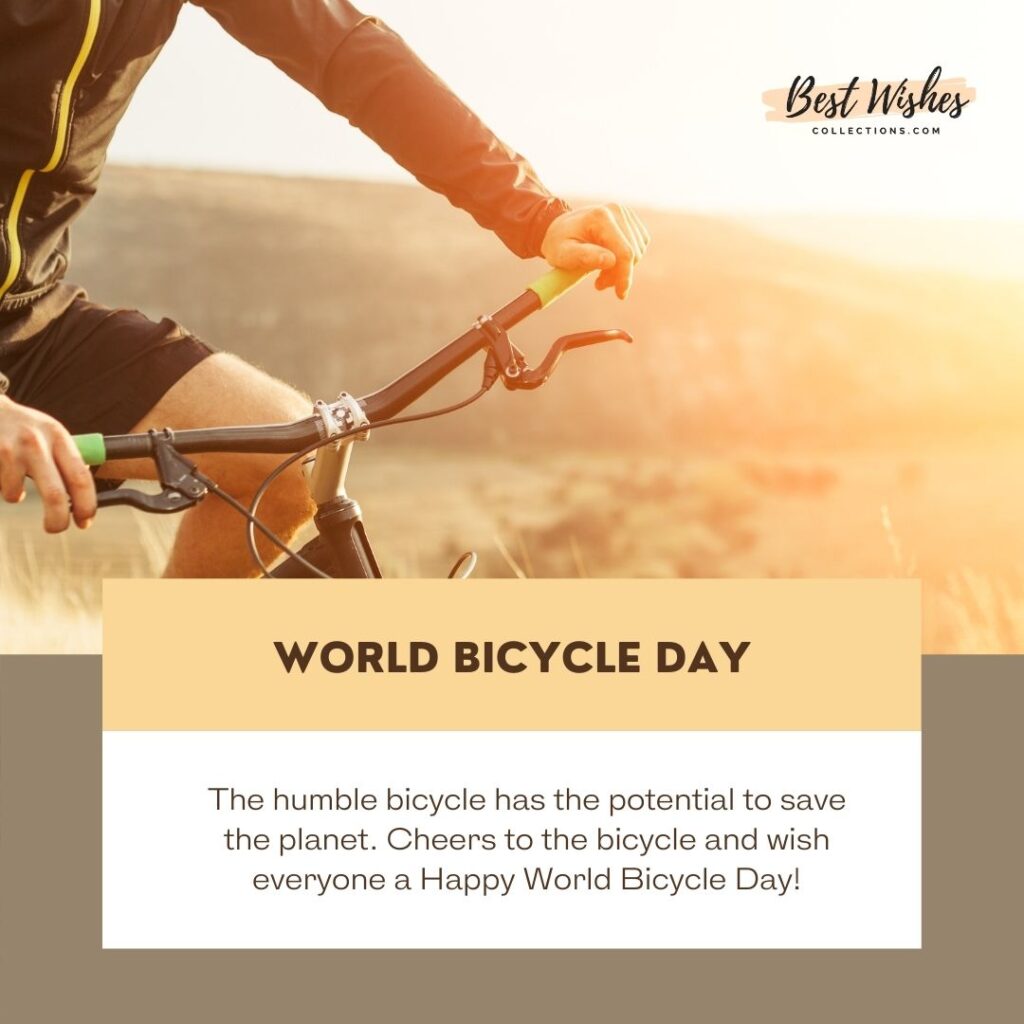 The humble bicycle has the potential to save the planet. Cheers to the bicycle and wish everyone a Happy Bicycle Day!
A bicycle reminds us of the times when innocence prevailed and kids would be seen happy on bicycles than on smartphones. Happy World Bicycle Day to all!
Cycling is one of the most pleasurable forms of commutation with no major expenditure. Happy World Bicycle Day!
Cycling is a hobby that I had not visited for a long time. Wishing all the people all over the world a very Happy Bicycle Day!
It is amazing how the simplest and one of the earliest forms of transportation could be so desirable in today's world! Happy Bicycle Day!
This simple and ancient invention is the solution to today's traffic, congested and polluted roads. Happy Bicycle Day to everyone!
When you cycle fast, you feel the flight of the birds through the sky. Here's to spreading the love for cycling. Happy Bicycle Day!
Cheap and efficient, small in size and can be parked anywhere. Nothing comes close to the perfection of the bicycle. Happy Bicycle Day!
The bicycle is not only a vehicle but also a sport that can be used as an antidepressant. Happy World Bicycle Day!
What can be a more exciting way to reach your workplace than cycling? Let us rejoice and wish everyone a very Happy Bicycle Day!
What's your favorite cycling quote? Get in touch with us via Twitter or Facebook.