International Mountain Climbing Day is celebrated on August 1 every year. There's no denying how fascinating & admiring the towering beauty of mountains are. From the unpredictable wilderness to the unmerciful weather, there are so many ways that conquering mountains can help shape you as a person. Climbing a mountain is an exhilarating experience and we must celebrate this adventurous activity with Mountain Climbing Day greetings and wishes to share with everyone around us.
Check out this ultimate list of mountain quotes, mountain climbing day greetings designed to inspire the adventurer in you.
"The mountains are calling, and I must go!"
Mountain Climbing Day Messages, Quotes and Greetings
Climbing a mountain is like a journey and a view you get on top is the reward. Wishing you a very Happy Mountain Climbing Day.
You have to be fit, focused, and dedicated when it comes to climbing a mountain. Wishing a very Happy Mountain Climbing Day to you my dear.
Climbing a mountain makes us stronger physically and mentally. Let us make the most of Mountain Climbing Day by climbing one of the mountains with our dear ones.
The peace and view that you get from the top of a mountain are always breathtaking. Let us enjoy both on Mountain Climbing Day by embracing this exercise.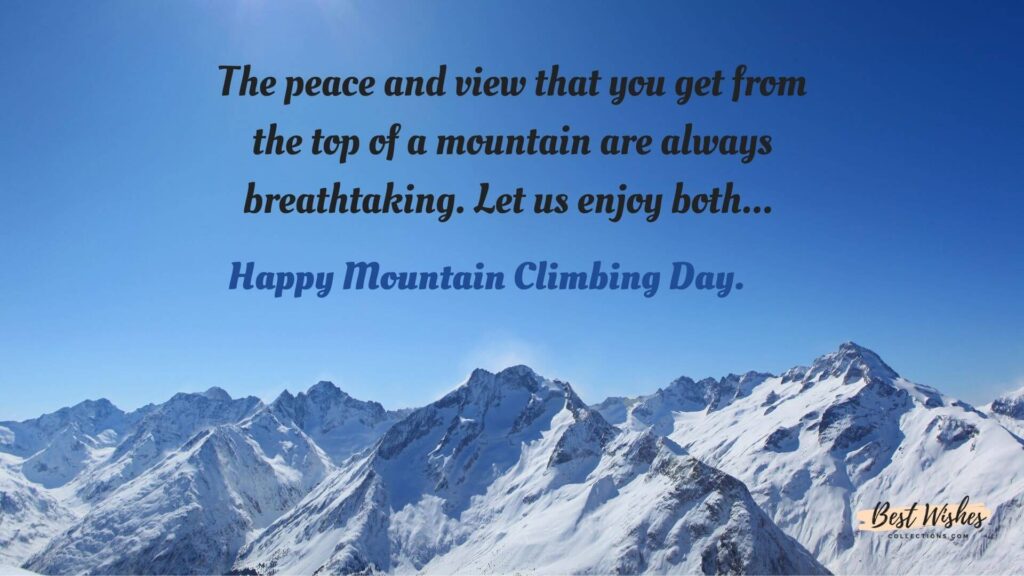 If you haven't climbed a mountain in your life then we are certainly missing something really very exciting. Happy Mountain Climbing Day.
Warm wishes on the occasion of Mountain Climbing Day to you. Climbing a mountain is like a challenge you give yourself and when you achieve it, you feel great.
Also, Check- World Ocean Day Quotes
Short Inspirational Quotes About Mountain
There is plenty of short mountain quote, they are perfect for social media caption and also for sharing with friends which can inspire them for their next adventure.
The best view comes after the hardest climb."– Unknown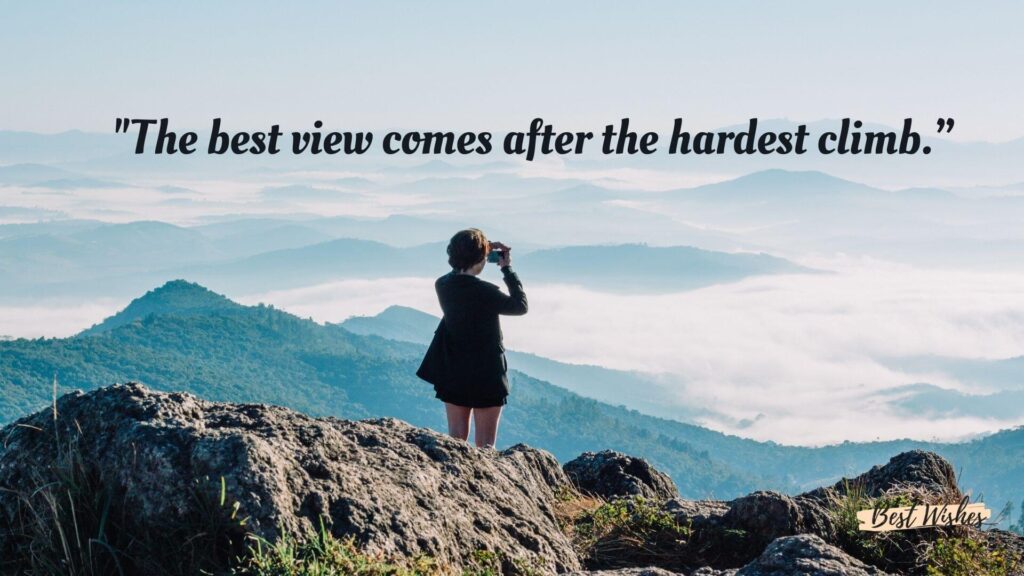 "The mountains are calling and I must go." – John Muir
"It's not the mountain we conquer, but ourselves." – Unknown
"Hike more. Worry Less."– Unknown
"Go where you feel most alive." – Unknown
"Nothing lives long, Only the earth and mountains." – Dee Brown
"How wild it was to let it be." – Cheryl Strayed
"Life is better in hiking boots." – Unknown
Coffee, Mountains, Adventure" – Unknown
"If you think you've peaked, find a new mountain." – Unknown
"When preparing to climb a mountain, pack a light heart." – Dan May
"A little more altitude, a little less attitude" – Unknown
All good things are wild and free." – Unknown
"Go wild, for a while" – Unknown
"Going to the mountains is like going home" – John Muir
Inspiring Mountain Quotes
Success requires effort, perseverance, and a determination to keep pushing yourself, just like climbing a mountain! So here are our favorite inspirational mountain quotes from some of the world's best mountaineers, writers, and nature lovers. We hope they resonate with you to inspire your next adventure! Happy Mountain Climbing Day!!!!
"Everyone wants to live on top of the mountain, but all the happiness and growth occurs while you're climbing it." Andy Rooney
"Mountains have a way of dealing with overconfidence."- Hermann Buhl
"You can't move mountains by whispering at them."– Pink
"Mountains are like the great equalizer. It doesn't matter who anyone is or what they do."– Jimmy Chin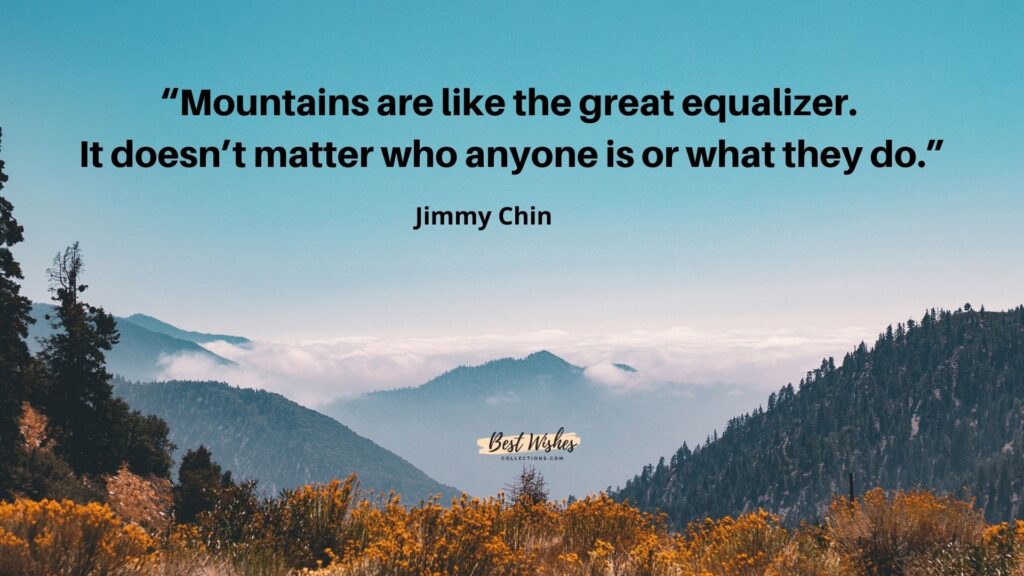 "The hardest mountain to climb is the one within".– J. Lynn
"Never measure the height of a mountain until you reach the top. Then you will see how low it was."– Dag Hammerskjold
In every walk with nature, one receives far more than he seeks"– John Muir
"In the mountains, there are only two grades: you can either do it, or you can't."– Rusty Baillie
"You can't conquer a mountain, though it may conquer you."– Jimmy Chin
"It is not the mountain we conquer, but ourselves"-Edmund Hillary
"Mountains know secrets we need to learn. That might take time, it might be hard, but if you just hold on long enough, you will find the strength to rise up"– Tyler Knott
"One day's exposure to mountains is better than a cartload of books"– John Muir
Mountain Climbing Quotes
I have put together a list of some best of the best mountain quotes to inspire you to appreciate the journey, overcome your obstacles, and summit mountains – both literally and metaphorically. Get outside and adventure on!
"Human life is far more important than getting to the top of a mountain."– Edmund Hillary
"Great things are done when men and mountains meet."– William Blake
"Climb the mountain not to plant your flag, but to embrace the challenge, enjoy the air and behold the view. Climb it so you can see the world, not so the world can see you." – David McCullough Jr.
"He who climbs upon the highest mountains laughs at all tragedies, real or imaginary."– Friedrich Nietzsche
"Real freedom lies in wildness, not in civilization". – Charles Lindbergh
"A little more altitude, a little less attitude".
"There is no wifi in the forest, but you will make better connection". – Unknown
"Go where you feel most alive".
Climb Quotes
Here are a few inspirational Mountain Quotes that might inspire you, to rekindle the passion for adventure in you. If neither, then let them at least inspire you to accept whatever challenges life throws at you and do the best!
It isn't the mountains ahead to climb that wear you out; it's the pebble in your shoe. Muhammad Ali
After climbing a great hill, one only finds that there are many more hills to climb. Nelson Mandela
When you reach the top, that's when the climb begins. Michael Caine
You cannot climb the ladder of success dressed in the costume of failure. Zig Ziglar
I may climb perhaps to no great heights, but I will climb alone. Cyrano de Bergerac
Climb the mountains and get their good tidings. John Muir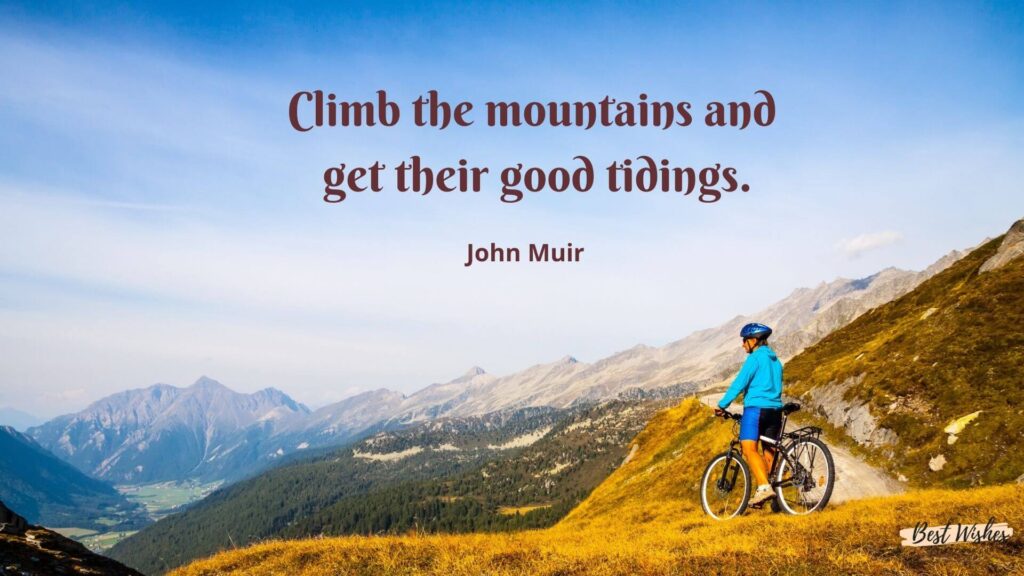 "Every mountain top is within reach if you just keep climbing." – Barry Finlay
"May your dreams be larger than mountains and may you have the courage to scale their summits." – Harley King
"The best view comes after the hardest climb." – Vanessa Gendoma
"I take all day to climb mountains and then spend about 10 minutes at the top admiring the view". – Sebastian Thrun
"The special forces gave me the self-confidence to do some extraordinary things in my life. Climbing Everest then cemented my belief in myself." – Bear Grylls
"You don't need to climb a mountain to know that it's high." – Paulo Coelho
"Over every mountain, there is a path, although it may not be seen from the valley." – Theodore Roethke
"If the path be beautiful, let us not ask where it leads." – Anatole France
Mountain Quotes & Caption for Adventure
"My wish is to stay always like this, living quietly in a corner of nature". – Claude Monet
"Look deep into nature, and then you will understand everything better". – Albert Einstein
"The clearest way into the universe is through the forest wilderness". – John Muir
"If people sat outside and looked at the stars each night, I'll bet they'd live a lot differently". – Bill Watterson
"Nature has been for me, for as long as I remember, a source of solace, inspiration, adventure, and delight; a home, a teacher, a companion". – Lorraine Anderson
"Wilderness is not a luxury but the necessity of the human spirit". – Edward Abbey
"The farther one gets into the wilderness, the greater is the attraction of its lonely freedom". – Theodore Roosevelt
"The wilderness holds answers to questions we have not yet learned to ask". – Nancy Wynne Newhall
"Our peace shall stand as firm as rocky mountains." – William Shakespeare
Final Words-I hope you like reading Mountain Climbing Day Quotes Also, If you've found it useful, please download and share it with your family and friends on social media.
If you like these quotes, feel free to pin them on Pinterest and share them around! Happy reading! Thanking you for visiting our bestwishescollections, for more updates on thoughts and quotes, please visit regularly for more updates.
Please Do Follow us on Facebook and also you can follow bestwishescollections on Instagram.