World Poetry Day is celebrated every year on March 21, celebrating a linguistic expression that people from all cultures can identify with. Poetry can be found in the history of every nation, and brings us together under shared values and common humanity. The most basic of poems have the power to stir dialogue. 
World Poetry Day theme 2023
"Always be a poet, even in prose."
World Poetry Day Quotes
"Poetry is the spontaneous overflow of powerful feelings: it takes its origin from emotion recollected in tranquility." – William Wordsworth
"Poetry is language at its most distilled and most powerful." – Rita Dove
"Poetry is the journal of the sea animal living on land, wanting to fly in the air." – Carl Sandburg
"Poetry is the art of creating imaginary gardens with real toads." – Marianne Moore
"Poetry is not a turning loose of emotion, but an escape from emotion; it is not the expression of personality, but an escape from personality." – T.S. Eliot
"A poet is, before anything else, a person who is passionately in love with language." – W.H. Auden
"Poetry is just the evidence of life. If your life is burning well, poetry is just the ash." – Leonard Cohen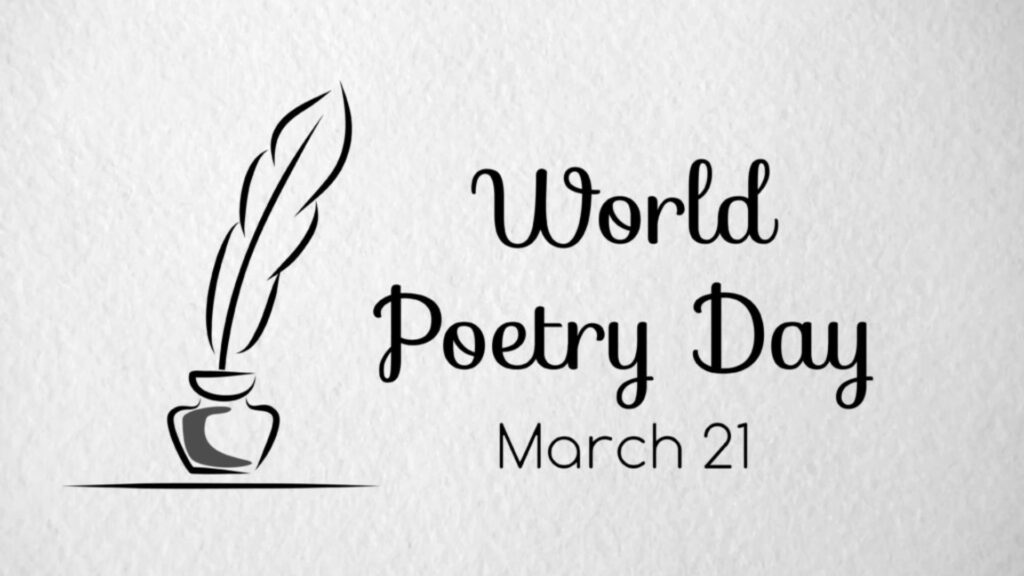 "Poetry is the opening and closing of a door, leaving those who look through to guess about what is seen during the moment." – Carl Sandburg
"Poetry is a way of taking life by the throat." – Robert Frost
"Poetry is the rhythmical creation of beauty in words." – Edgar Allan Poe
"Trees are poems the earth writes upon the sky, we fell them down and turn them into paper, That we may record our emptiness." (Kahlil Gibran)
"A poet's works to name the unnamable, to point at frauds, to take sides, start arguments, shape the world, and stop it from going to sleep." (Salman Rushdie)
"Love recognizes no barriers. It jumps hurdles, leaps fences, penetrates walls to arrive at its destination full of hope." (Maya Angelou)
"What the world wants, what the world is waiting for, is not Modern Poetry or Classical Poetry or Neo-Classical Poetry but Good Poetry. And the dreadful disreputable doubt, which stirs in my own skeptical mind, is doubt about whether it would really matter much what style a poet chose to write in, in any period, as long as he wrote Good poetry." (G. K Chesterton)
"An artist must be free to choose what he does, certainly, but he must also never be afraid to do what he might choose." (Langston Hughes)
"You must have a certain amount of maturity to be a poet. Seldom do sixteen-year-olds know themselves well enough." (Erica Jong)
21 March is #WorldPoetryDay! In times of uncertainty and turbulence, we need more than ever the power of #poetry to bring people together and to nurture the peace all societies need today.
World Poetry Day Wishes
A poet gathers the past, the present, and the future and spills them into poetry that can survive an eternity. Happy World Poetry Day!
The only language of the heart is poetry. Write a poem and speak your heart out on this day. Happy World Poetry Day!
The poetry of the earth is never dead. Happy World Poetry Day!
Celebrate this occasion of World Poetry Day by writing poetry for all your friends and family and communicating to them how you feel about them. Happy World Poetry Day.
The only language of the heart is poetry. Write a poem and speak your heart out on this day